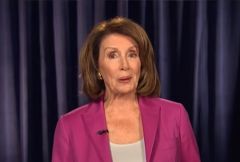 "Oh, no! We're in Virginia," House Speaker Rep. Nancy Pelosi (D-Calif.) exclaimed after she realized she'd told a Virginia press conference that they were in Maryland.
At a press event marking the start of the Democratic Issues Conference in Leesburg, Virginia Wednesday, Rep. Pelosi told the crowd she was pleased to be "in this great state of Maryland" – before realizing she wasn't.
Pelosi said she should've known what state she was in, because "the president is talking about George Washington right now":
Source material can be found at this site.