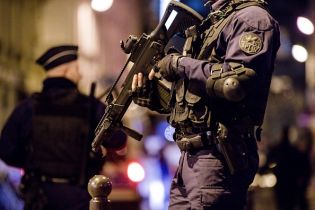 Paris (CNSNews.com) – The foiling of yet another terrorist plot in France has underlined again the continuing threat posed by Islamists, and experts say France is clearly seen as a major target.
Interior Minister Christophe Castaner told reporters an "extremely violent" terrorist attack had been planned, and the risk "neutralized." Earlier the public prosecutor's office announced the arrest of four men suspected of "terrorist criminal conspiracy," following an investigation that began last February.
The prosecutor's office said an attack, likely targeting security forces, had been planned for the near future.
Few details were released about the intended target, the mode of operation, or the circumstances of the arrests. The four men, who were said to have been monitored by intelligence services since February, are now being interrogated by the Directorate General of Homeland Security (DGSI) at its headquarters in the capital.
Jean Charles Brisard, president of the Center of Analysis of Terrorism, said terrorist threats were always present in the country. Although other countries were also threatened, France was "still the main target of Islamists."
Among the four suspects is a 17-year-old already known by security forces. He was arrested in February 2017 while trying to travel to Syria to join the "jihad."
He was convicted of "terrorist criminal conspiracy," according to Le Figaro, and sentenced to three years' imprisonment, two of which were suspended. He was placed in an educational center and reportedly underwent tests recently to see whether he still harbored the desire to carry out terrorist acts. The results are not publicly known.
The other three men in custody are aged around 30, and had a background of common law offenses only.
Pierre Conesa, a former defense ministry official and expert in international strategic issues, said "dormant" terror cells continue to exist in France.
"After the terror acts of 2015-2016 in France, intelligence services investigated thoroughly and found these kinds of cells that provided weapons and services to terrorists. Before then, intelligence services were saying they didn't exist – even though there is always a need for logistics for terrorists."
The arrests were announced on Monday, the same day as a video was released in which the fugitive leader of ISIS, Abu Bakr al-Baghdadi, urged followers to carry out attacks to avenge the loss of the group's territory in Iraq and Syria.
Among other things, Baghdadi called for terror attacks "against Crusader France and its allies."
Brisard said the video served as "an important signal to his supporters, mainly in Europe. After rumors of his death, he is now congratulating them for acts like the massacre of Catholics in Sri Lanka, and calling for more acts."
Brisard said the video message was a way for Baghdadi to rally his fighters even though the Islamic State no longer exists on the ground.
According to French media at least six terrorist attack plots have been foiled here since January. Last month two men whose names are on the so-called "S List" were arrested near Paris, and one admitted during interrogation plans to attack a school, kidnap children and teachers, and initiate an armed confrontation with responding security forces.
The two men have been indicted on the same charges – "terrorist criminal conspiracy" – that are being investigated against the latest four suspects to be arrested.
Police and security forces are among the prime targets of ISIS, which regularly calls for attacks on them in France.
Conesa said the threat of terror attacks in France will remain high "as long as the government does not expel Salafist imams and known radical Islamists."
The "S List" (the S stands for State Security) includes the names of people who are considered potentially dangerous and are therefore subject to surveillance by police and intelligence agencies.
Source material can be found at this site.