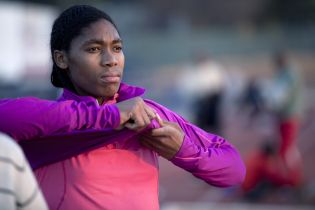 Because the International Association of Athletics Federations is committed to preserving the integrity of women's athletic competition, it's demanding that South African track star Caster Semenya chemically reduce the levels of testosterone in her body.
Semenya is a female—both physiologically and chromosomally. But her body naturally produces elevated testosterone levels. Semenya refuses to alter her body chemically.
A sports arbitration court agreed with the IAAF that too much testosterone gives Semenya an unfair advantage in certain women's competitions. All this, while in other parts of the world, including here in the U.S., many with male physiology are allowed to compete as women, against women. Confused yet?
Tennis legend Billy Jean King said, "Forcing women w/naturally high testosterone to give up ownership of their bodies and take drugs to compete in sport is barbaric, dangerous, and discriminatory." I agree.
As a former 5' 9" point guard, I could have claimed that 6' 10" centers had an unfair advantage. But unlike the IAAF, I believe in competing with what you're born with.
John Stonestreet is President of The Chuck Colson Center for Christian Worldview and BreakPoint co-host.
Editor's Note: This piece was originally published by BreakPoint.
Source material can be found at this site.