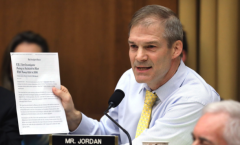 (CNSNews.com) — House Judiciary Committee member Rep. Jim Jordan (R-Ohio) said today that the Democrats are voting to hold Attorney General William Barr in contempt of Congress and destroy his reputation and authority overall because they are afraid that he is going to investigate how a corrupt FBI and DOJ spied on the Trump campaign in 2016 based on a salacious dossier paid for by the Democratic National Committee and the Clinton campaign. The fabricated dossier was used to help launch the special counsel investigation, which concluded after two years and $35 million that the Trump campaign did not collude with Russia.
At the House Judiciary Committee hearing on Wednesday where the Democrats voted to hold Barr in contempt for his refusal to release the un-redacted version of the Mueller Report, Jordan said, "Bill Barr is following the law. What's his reward? Democrats are going to hold him in contempt. I don't think today actually is about getting information. I don't think it's about getting the un-redacted Mueller report."
"I think it's all about trying to destroy Bill Barr because Democrats are nervous he's going to get to the bottom of everything," said Jordan.  "He's going to find out how and why this investigation started in the first place."
"Never forget what Bill Barr said a few weeks ago when he testified in front of the Senate Finance Committee," said Jordan. "First, he said there was a failure in leadership at the upper echelon of the FBI. We all know that's the case. Director Comey's been fired. Deputy Director McCabe fired, lied three times under oath, according to the Inspector General. FBI Counsel Jim Baker demoted and left, currently under investigation by the Justice Department. Lisa Page, demoted and left. Peter Strzok, deputy head of counter-intelligence, demoted and fired — Peter Strzok, the guy who ran the Clinton investigation and the Russia investigation. There was certainly a failure of leadership at the upper echelon of the FBI."
Jordan, a member of the House Freedom Caucus, continued, "Second thing the attorney general said … spying did occur. He said it twice. Yes, spying did occur. … He [also] said, in his judgment, he thinks there may have been unauthorized surveillance and political surveillance. Scary terms."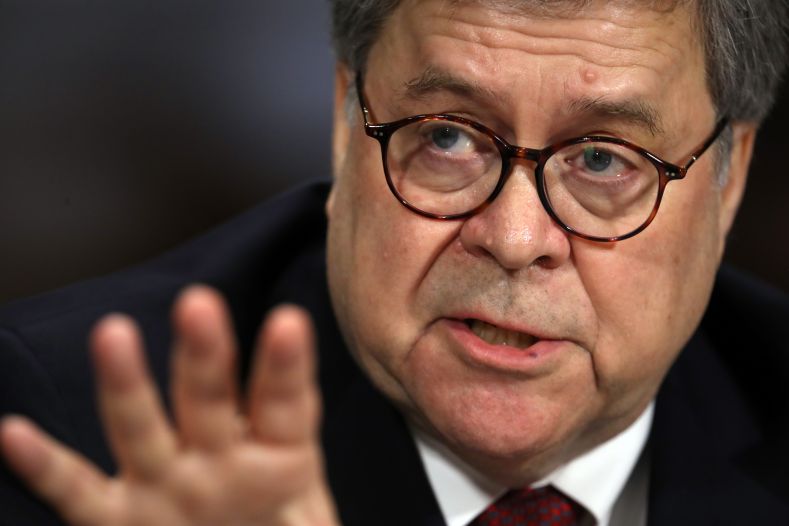 "We've got to go back to January 3rd, 2017," said Jordan. "Senator Schumer on the Rachel Maddow Show talking about then-President-elect Trump says this, 'If you take on the intelligence community, they have six ways from Sunday of getting back at you.' … I sure know they [FBI]went after him [Trump] in two ways."
"The first one is the now-famous dossier," said Jordan.  "On October 21, 2016, the FBI used one party's opposition research document as the basis to go to a secret court to get a warrant to spy on the other party's campaign. That happened. Democratic National Committee, the Clinton campaign paid Perkins Coie law firm , who hired Fusion GPS, who then hired a foreigner, Christopher Steele, who did what – talked to Russians and put together this salacious, unverified document, that became the basis to spy on the Trump campaign."
"They did it," the FBI, said Jordan.
"And when they went to the court, they didn't tell them important things like who paid for it," said the Ohio congressman. "They didn't tell them that Christopher Steele had already told the FBI and the Justice Department that he was quote 'desperate to stop Trump.' And they didn't tell the court that Christopher Steele had been fired by the FBI because he's out talking to the press. They [FBI] did that.
"Second, just last Thursday, New York Times story, FBI sent investigator posing as an assistant to meet with the Trump aide in 2016," reported Jordan. "The FBI sent someone in, pretending to be somebody else, to talk with George Papadopoulos who was with the Trump campaign."
"You know what they call that?" said Jordan. "You know what they call that? It's called spying. They did it. They did it twice and who knows how much more – and what I know is [Attorney General] Bill Barr's said he's going to get to the bottom of it."
Source material can be found at this site.