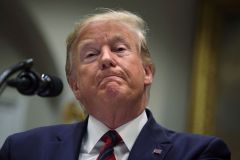 (CNSNews.com) – President Donald Trump said Thursday that he was "very surprised" at the Senate Intelligence Committee issued a subpoena to his son Donald Trump, Jr., over the Mueller investigation, especially considering the number of hours his son testified and that the Mueller report "exonerated" him.
During a press conference to announce an initiative requiring drug companies to disclose the price of prescription drugs in ads, Trump was asked about the subpoena.
"I was very surprised. I saw Richard Burr saying there was no collusion two or three weeks ago. He went outside, and somebody asked him. No, there's no collusion. We found no collusion. I was very surprised to see my son. My son's a very good person, works very hard. The last thing he needs is Washington, D.C. He could rather not ever be involved," the president said.
"Remember he said to me a long time ago when I was thinking about running, Dad, if I can help, let me know. It's not my expertise. It's not something I really like, but whatever I can do, you're my father. Whatever I can do. He's now testified for 20 hours or something – a massive amount of time. The Mueller report came out. That's the Bible. The Mueller report came out, and it said he did nothing wrong," Trump said. "The only thing is, it's oppo research."
The president suggested that opposition research was a normal practice by politicians.
"If he did wrong, then everybody standing with me probably – except for John and Lamar. I think Lamar is pretty– I tell you. Did you ever do oppo research on an opponent? I don't think so, Lamar, right? And I know John Barrasso never did opposition research, because he's a fine, fine man, but I would say, 99 percent of the rest of the folks—" Trump said.
"My son is a good person. My son testified for hours and hours. My son was totally exonerated by Mueller, who frankly does not like Donald Trump – me, this Donald Trump – and frankly, for my son, after being exonerated to now get a subpoena to go again and speak again after close to 20 hours of telling everybody that would listen about a nothing meeting. Yeah, I'm pretty surprised," he said.
When asked whether his son would fight the subpoena, Trump said, "We'll see what happens. I'm just very surprised. I really am."
Source material can be found at this site.