The U.S. Postal Service (USPS) finished fiscal year 2018 nearly $4 billion in the red — a whopping 44 percent increase in losses from the previous year. This was despite a revenue increase of more than a billion dollars.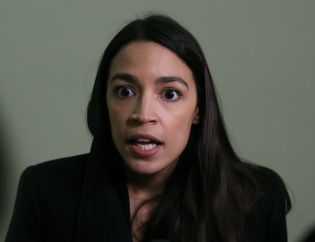 Now the former alcoholic drink slinger Ocasio Cortez wants them to run like banks.
Mike LaChance at American Lookout reported:
Alexandria Ocasio-Cortez represents one small district in New York, yet every time she is in the news, it's because she is proposing some massive, national plan. Does she think she represents the whole country?
Now the bimbo is proposing that post offices should also function as government controlled banks.
PJ Media reported:
What Could Possibly Go Wrong? AOC Wants a Government Bank Operated by the Post Office

Imagine a big government boondoggle with the disorganization of a poorly-run non-profit organization and "customer service" that treats customers like driver's license applicants at the DMV. That's how Rep. Alexandria Ocasio-Cortez (D-N.Y.) wants banking to work.

America's most infamous former bartender proposed this idea with Sen. Bernie Sanders (I-Vt.), the runner-up for the 2016 Democratic presidential nomination.

"We should have a not-for-profit public option for basic banking services, and we should be piloting these projects through the U.S. Postal Service," Ocasio-Cortez said, apparently with no irony.

In the video, a tired Sanders ends his yawn to make a gesture of agreement.

.@RepAOC "We should have a not-for-profit public option for basic banking services, and we should be piloting these projects through the @USPS" #postalbanking pic.twitter.com/dobyU4hdT2

— Take On Wall St (@TakeOnWallSt) May 9, 2019