Senate Judiciary Chairman Lindsey Graham (R-SC) appeared on "Sunday Morning Futures" and told host Maria Bartiromo that he is working to declassify a 'sensitive document' that will prove the FBI knew the Steele dossier lacked credibility before it was used to obtain a spy warrant on Carter Page.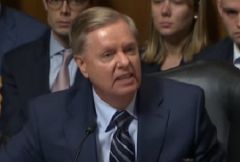 Bartiromo said she is hearing a big portion of IG Horowitz's impending report on FISA abuses will concentrate on the complicit media, who created stories based on what the FBI leaked about the dossier (to David Corn of Mother Jones and Michael Isikoff Yahoo! News) — the FBI then took the stories from those media reports and used it to obtain the FISA warrants.
In other words, circular reporting all created by our own corrupt FBI.
"There's a document that's classified that I'm gonna try to get unclassified that takes the dossier, all pages of it and it has verification to one side. There really is no verification other than media reports that were generated by reporters who received the dossier," Lindsey Graham said.
Graham continued, "So, the bottom line is the dossier has never been independently confirmed. It was used to get a warrant. They knew the author of the dossier was on the Democratic Party payroll — he hated Trump — they got the warrant anyway. Most Americans should be very upset about that. I'm very upset about it. And we're going to get to the bottom of it."