Authored by Tom Ozimek via The Epoch Times,
FBI investigators have found an Islamic training compound in Alabama linked to a group of suspected homegrown Muslim terrorists.
According to a report by the Sinclair Broadcast Group, an FBI search warrant described the property in Macon County, Alabama, as a "makeshift military-style obstacle course."
Identified in reports as a "homegrown Islamic terror compound," it allegedly belongs to a group led by 40-year-old Terrorist Siraj Wahhaj, an imam indicted on federal charges related to firearms violations and terrorism.
Breaking: The FBI has uncovered a terror training camp in Macon County, Alabama. The group responsible for the camp was led by Siraj Wahhaj. Wahhaj managed a New Mexico terror compound uncovered last year, which trained children to carry out attacks. pic.twitter.com/fGhArw02yU

— Porter Medium (@PorterMedium) May 11, 2019
Wahhaj and four other Muslim suspects Jany Leveille, 36, Hujrah Wahhaj, 38, Subhanah Wahhaj, 36, and Lucas Morton, 41, face a range of firearms and terrorism-related charges amid accusations they conspired to support planned attacks on U.S. law enforcement officers and other government employees.
Federal prosecutors 
commented in March
 on the charges against Wahhaj and others in a new indictment that brought fresh terror-related allegations.
"The superseding indictment alleges a conspiracy to stage deadly attacks on American soil," U.S. Attorney John Anderson said in a written statement.

"These allegations remind us of the dangers of Islamic terrorism that continue to confront our nation," Anderson said.
Charging documents allege Wahhaj and other Muslims were conducting weapons training with assault rifles at the ramshackle compound in New Mexico, where children were being trained to commit school shootings. It would be a little less concerning if their holy book the Qu'ran, their written code of morality and behavior — did not expressly instruct them either to forcefully convert us all or to lie to us all and to kill us all.
"He poses a great danger to the children found on the property as well as a threat to the community as a whole due to the presence of firearms and his intent to use these firearms in a violent and illegal manner," prosecutor Timothy Hasson wrote in court documents.
The New Mexico compound, located on the outskirts of Amalia, a tiny town near the Colorado border, is reportedly similar to one FBI agents found in Alabama.
In an interview with Sinclair Broadcast Group, former FBI agent Tim Fuhrman warned due to migration the increasing threat of domestic Islamic terror that "exists in every region of the United States and affects all walks of life."
"Just because you're in a small town or a small state does not mean you might not potentially have individuals engaged in the types of activities that would call into question threats to national security," Fuhrman told the outlet.
The FBI is currently pursuing 850 domestic terrorism investigations, Assistant Director for Counterterrorism Michael McGarrity said earlier in the week while speaking to the House Homeland Security Committee, according to CNN.
"The FBI assesses domestic terrorists collectively pose a persistent and evolving threat of violence and economic harm to the United States," McGarrity said.
The FBI encourages citizens to protect themselves against terrorism by remaining aware of their surroundings, refraining from oversharing personal information, and reporting suspicious activity.
Missing 3-Year-Old's Death
The remains of 3-year-old Abdul-Ghani Wahhaj were found at the New Mexico compound, where authorities found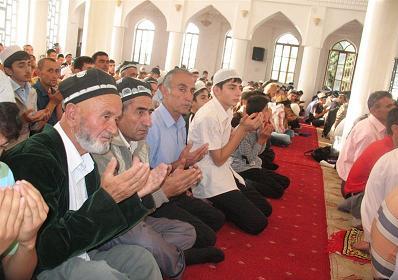 11 malnourished children, guns and ammunition, and a firing range.
The search of the compound was sparked by an investigation into the whereabouts of the missing 3-year-old, who was Siraj Wahhaj's son and suffered seizures.
Prosecutor John Lovelace said the boy died during "a religious ritual" intended to "cast out demonic spirits," reported Reuters.
The boy stopped breathing and soon died during a ceremony, prosecutors said. Wahhaj had placed his hand on the boy's head and was reciting verses from the Quran just before the boy began suffering seizures and foaming at the mouth. He was soon dead.
Wahhaj's 15-year-old son recounted to officials that one of the adults told him the spirit of the dead boy would return as "Jesus" to direct the group on where to carry out the violent attacks they were allegedly training for.
Prosecutors said Jany Leveille, Wahhaj's wife, led the group and was the one who spread the belief that the boy would be reincarnated to attack banks, schools, and government agencies, reported USA Today, citing an FBI agent's testimony.
"Jany had a message from God that they needed to leave and head to New Mexico and that Abdul Wahhaj, once the demons were expelled from his body through religious rituals, that he would become Jesus and once he became Jesus he would instruct the others on the property, the family, what corrupt institutions to get rid of," testified FBI agent Travis Taylor, who interviewed two of the oldest children.
Kidnapping charges were brought against Leveille, Hujrah Wahhaj, Subhana Wahhaj, and Lucas Morton in connection with the child's abduction and subsequent death.
They potentially could have faced the death penalty if convicted of abducting the child because authorities said it resulted in the boy dying.
Prosecutors said in a filing ahead of a court hearing in April that they would not seek capital punishment against the four suspects.
Jihadis training in your neighborhood?
Is There a Muslim Terrorist Training Camp Near YOU?