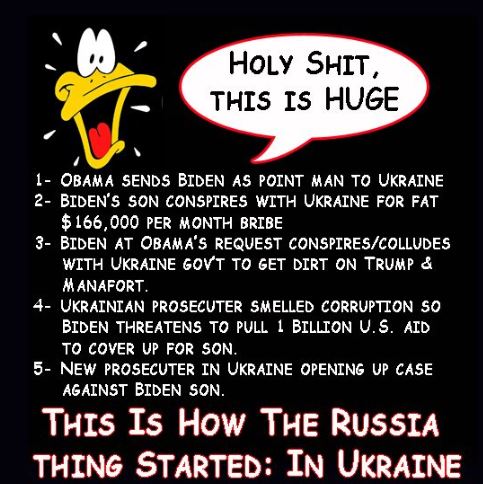 There are mountains of corruption and crime committed by politicians, rinos, and the deepstate that will never be heard of much less investigated.  We let it go too long without accountability, the bodies have been moved, the witnesses disappeared and too much dirt piled on to uncover it all.  True justice will not be served but, it rarely is.
That said, there has to be a major criminal reckoning if we wish to keep our Republic. The ties between the media, the deepstate, and the Democrats need to be exposed. Biden's story could expose a lot.
After leaving office in 2017, Vice President Joe Biden Bragged about strong-arming the government of Ukraine to fire its top prosecutor.
Joe Biden made the remarks during a meeting of foreign policy specialists. Biden said he, "Threatened Ukrainian President Petro Poroshenko in March 2016 that the Obama administration would pull $1 billion in U.S. loan guarantees, sending the former Soviet republic toward insolvency, if it didn't immediately fire Prosecutor General Viktor Shokin." Biden suggested during his talk that Barack Obama was in on the threat
In April John Solomon revealed what Biden did not tell his audience. Joe Biden had Poroshenko fired because he was investigating Joe Biden's son Hunter.
Poroshenko was investigating $3 million in funds that were being transferred out of Ukraine and into accounts in the United States at that time.
So Joe Biden had him fired.
John Solomon joined Hannity in April to drop this bomb on the scandalous Biden family.
Via Hannity:
On Tuesday Rudy Giuliani joined Sean Hannity to discuss this international scandal involving Joe Biden and his scandal-plagued son, Hunter Biden.
Rudy told Sean that Joe Biden will be investigated no matter what.