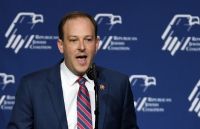 (CNSNews.com) – Frustrated that a pro-Israel bill is not progressing, House Republicans on Wednesday signaled plans to force consideration of the measure, amid strong criticism of Democratic leaders' handling of freshmen accused of anti-Israel and anti-Semitic positions.
"Madame Speaker, your House is not in order," Rep. Lee Zeldin (R-N.Y.) said on the House floor in words directed at Speaker Nancy Pelosi, after speaking about some of the recent controversies involving Reps. Rashida Tlaib (D-Mich.) and Ilhan Omar (D-Minn.)
The bill enables state and local governments to divest from any company or fund which boycotts, divests from, or sanctions Israel. Other elements deal with security assistance to Israel, sanctions against the Assad regime, and defense cooperation with Jordan.
Sponsored by the ranking Republican on the House Foreign Affairs Committee, Rep. Michael McCaul of Texas, H.R. 336 was referred to various committees on January 8. Meanwhile the Senate passed a similar bill in February in a 77-23 vote, with 24 Democrats voting "aye."
Now House Republican leaders are filing a discharge motion on McCaul's bill. If a majority of members sign on, Democratic leaders must bring it up for a vote. Getting to that majority of 219 signatures will require 21 Democrats to join all the Republicans in the House.
(A discharge motion is a device used to bring a bill to the floor for consideration without a report from the committee, which is "discharged" from further consideration of the measure.)
At a press briefing announcing the move, McCaul said the Senate had given the companion bill such a high priority that it was the first measure to pass in the 116th Congress, and he noted that Minority Leader Chuck Schumer (D-N.Y.) was among the 77 votes in favor.
"This should have been marked up months ago," he said of his bill. "To me that's sad. It's unfortunate, when it was the first bill priority in the Senate, had so much bipartisan support, and yet we cannot move it forward here in the House."
McCaul urged Democrats to "stand up for Israel and do the right thing."
The Democratic caucus has been divided over public comments and social media postings by Tlaib and Omar, who are the first two Muslim women elected to Congress. Both are strident critics of Israel, and publicly support the anti-Israel boycott, divestment and sanctions (BDS) movement, which McCaul's bill targets.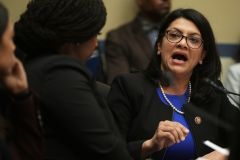 Tlaib and Omar have been embroiled in a series of controversies over these and other issues, with some fellow Democrats at times joining the criticism.
Just days into her first term, Tlaib in a reference to the Senate's anti-BDS bill tweeted, "They forgot what country they represent," insinuating that supporters of the bill were acting in the interests of Israel rather than the United States.
Democrats were among those to some U.S. politicians were paid to be pro-Israel and have "allegiance to a foreign country."
House Democratic leaders then sought to defuse the row with a resolution condemning anti-Semitism, although the end result was a measure "watered down" – critics said – to condemn a wide range of bigotry rather than focus on the specific issue at hand.
A more recent row erupted over comments by Tlaib about the Holocaust, which saw President Trump joining in the criticism, prompting Pelosi to accuse him of misrepresenting Tlaib's comments and demand an apology.
Also speaking at Wednesday's GOP press briefing, Zeldin revisited some of the troubling comments, and questioned the associations between members of Congress and Women's March co-leaders Linda Sarsour and Tamika Mallory, and Nation of Islam leader Louis Farrakhan.
He also slammed Democrats for inviting to deliver the opening prayer last Thursday an imam with a history of anti-Israel comments on social media.
A simple Google search, Zeldin said, would have revealed that the imam supports BDS, has compared Israel to the Nazis, has called for a Palestinian uprising, and has posted in support of the Muslim Brotherhood.
"We shouldn't be having this conversation day after day after day, but we are – in 2019."
'We have an issue in this chamber'
Zeldin said if those members who are unhappy about the remarks remain silent, "these people who are promoting all this anti-Semitism" would double down and look to expand their ranks.
"They are bullying their fellow Democrats, who know better and want to do something about it."
"I would be proud to stand with every single Democrat in the House of Representatives with the courage – instead of being led by the radical left, instead they choose to put up a fight for what's right."
Zeldin, who is Jewish, has clashed repeatedly with Tlaib and Omar. On the House floor Wednesday, he criticized Pelosi for calling for an apology from those who had reprimanded Tlaib over her recent comments relating to the Holocaust.
"We have an issue in this chamber and we need to do something about it – not mask it, not empower it, not elevate it," he said. "It must be identified and crushed."
"And no, Madame Speaker, I'm not coming to this floor and apologizing to my colleagues who push it. I will apologize to everyone across this country offended by the lack of action by the speaker," Zeldin concluded. "Madame Speaker, your House is not in order."
Source material can be found at this site.