In a recent Twitter interaction, Representative Alexandria Ocasio-Cortez (D-NY) and Senator Ted Cruz (R-TX) agreed to work together on a bill that bans members of Congress from becoming professional lobbyists.
It started Thursday with a tweet by Ocasio-Cortez decrying the findings of progressive consumer rights group Public Citizen that nearly 60 percent of former congressmen go on to lobbying-oriented jobs: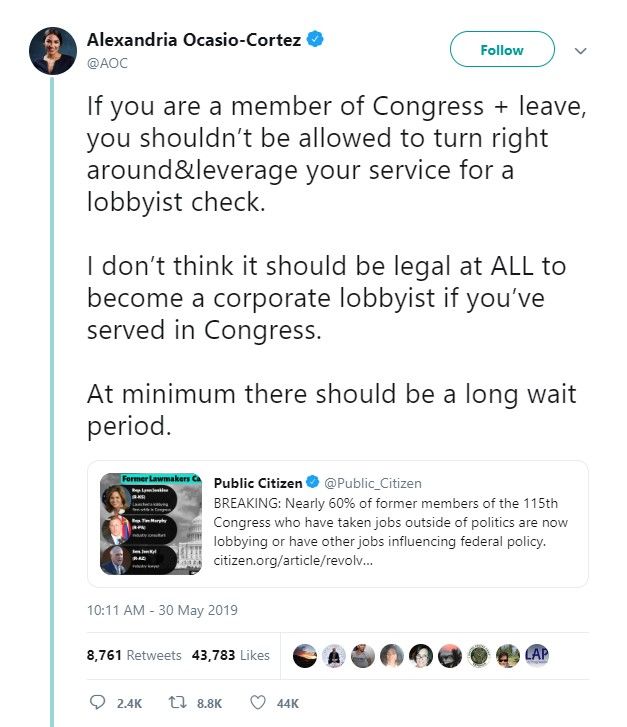 Senator Cruz responded, agreeing with the Democrat's stance on the issue: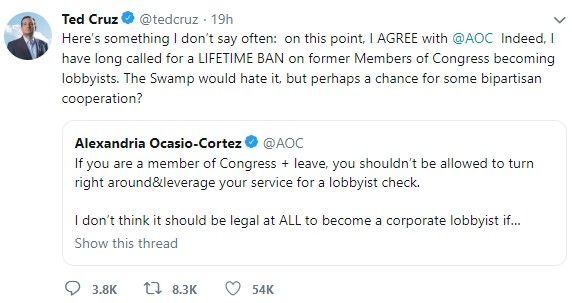 Ocasio-Cortez replied that she'd "co-lead" a bill banning members of Congress from becoming corporate lobbyists – as long as it is "a straight, clean ban" free of any partisan add-ons:
The proposed bill has since gained bipartisan support from Representative Chip Roy (R-TX) and Senator Brian Schatz (D-HI).
Public Citizen's Capitol Hill Lobbyist Craig Holman expressed surprise and cautious optimism regarding the bipartisan effort:
"Cruz and AOC willing to work together on revolving door abuses is quite a surprise, but it looks real. They are talking about sponsoring legislation to impose a lifetime ban on members of Congress ever serving as paid lobbyists once they retire from public service. I don't know how politically feasible this legislation would be, but it is a great starting point for some meaningful ethics reforms."
Source material can be found at this site.