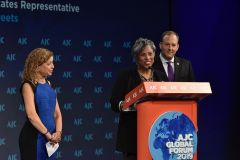 (CNSNews.com) – Three U.S. lawmakers on Monday announced the establishment of a bipartisan Congressional Black-Jewish Caucus, and immediately drew a backlash from Palestinian-American activist Linda Sarsour.
The Women's March co-leader took issue with the fact that one of the three is Rep. Lee Zeldin, a Jewish Republican from New York, who has been a leading critic of Reps. Ilhan Omar (D-Minn.) and Rashida Tlaib (D-Mich.)
Sarsour is a vocal supporter of Omar and Tlaib, and all three have stoked controversy with comments about Israel and Jews.
Sarsour also has problems with another of the three lawmakers, Rep. Debbie Wasserman Schultz (D-Fla.), a Jewish member who earlier this year split with the Women's March over concerns about anti-Semitism in the leadership.
Zeldin, Wasserman Schultz and Rep. Brenda Lawrence (D-Mich.) took to the platform at the American Jewish Committee (AJC) Global Forum in Washington on Monday to announce the formation of the new caucus.
Lawrence was credited with envisioning the initiative, and the other founding members were named as Reps. John Lewis (D-Ga.) and Will Hurd (R-Texas.)
On her Twitter account, Sarsour swiped Wasserman Schultz and Zeldin.
"Ah I see, [Wasserman Schultz] didn't want to march with the Women's March citing 'bigotry' but has no problem aligning partnering with [Zeldin], a notorious anti-Arab, anti-Palestinian, anti-Muslim bigot who also targeted a Black Muslim Congresswoman. We know the truth. This is a joke."
From the 761st Tank Bn helping to liberate Gunskirchen in May 1945, to Jews standing shoulder to shoulder with Dr. Martin Luther King, Jr. during the Civil Rights Movement, our communities are stronger together, looking out for each other & fighting alongside one another. https://t.co/VIS6piQ1xK

— Lee Zeldin (@RepLeeZeldin) June 3, 2019
Then, responding to a Zeldin tweet highlighting the formation of the caucus, Sarsour said – in reference to Omar and Tlaib – "Meanwhile, you target and attack the Black Muslim Congresswoman Palestinian Muslim Congresswoman putting their lives in danger."
That drew a sharp response from Republican Jewish Coalition (RJC) national spokesman Neil Boylan Strauss, who tweeted back at her, "You, [Omar] and [Tlaib] traffic in some of the most vile anti-Semitism. Threats of violence are absolutely unacceptable. No exceptions. Do not, however, blame [Zeldin] for shining light on the racist, anti-Jewish filth you spew."
In another tweet directed at Sarsour, the RJC said, "The only bigot in this equation is you. That any Democrats would march with you is the true moral failure."
Formation of the congressional caucus comes at a time when the House Democratic caucus has been grappling with controversies over anti-Semitism, mostly linked to Omar.
Omar and Tlaib, the first Muslim women to be elected to the U.S. Congress, are both critics of Israel and supporters of the anti-Israel boycott, divestment and sanctions (BDS) movement.
According to the AJC, the caucus "will raise awareness of each community's sensitivities and needs, in Congress and out, and provide resources to members of Congress to empower them to bring African-American and Jewish communities together, combating stereotypes and hate and showcasing commonalities."
"The African-American and Jewish communities have a history of standing together for the promotion of social justice and civil rights," said Lawrence in a statement released by the AJC. "There are very few segments of America that have invested themselves in these struggles as much as these communities."
"For generations, the Jewish and African-American communities have stood together, helping each other overcome their greatest challenges and triumphing in the face of sweeping discrimination, all while securing a brighter future for all Americans, but our work is not yet finished," said Zeldin. "It is clear our communities are still the target of hate and discrimination, and we will not stand idly by."
"African American and Jewish communities have a long, shared history of confronting discrimination and racism in the United States, and the rise of white supremacy threatens both of our communities," said Wasserman Schultz.
"The caucus will build upon our common fight for a better world, while raising awareness in Congress about the issues facing our communities. My hope is that generations to come will live in an America without anti-Semitism, racism, intolerance, and hatred."
Source material can be found at this site.