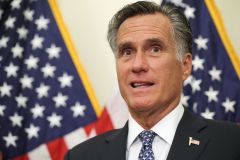 (CNSNews.com) — When asked whether President Trump should withdraw a federal judgeship nominee who compared a Catholic refusing to host a same-sex wedding to a KKK member invoking Christianity to racially discriminate, Sen. Mitt Romney (R-Utah) said he "needed to look at the full record" before making his decision.
At the U.S. Capitol on June 5, CNSNews.com asked Sen. Romney, "judicial nominee Michael Bogren equated a Catholic family declining to host same-sex weddings on their farm to a KKK member engaging in racial discrimination. Should President Trump should withdraw his nomination?"
The senator said, "I'll look at the full record of the individual before I make any statement on that."
Senator Ted Cruz (R-Texas) has been one of the few senators actively leading the charge against Bogren's nomination. When asked by CNSNews.com at the Capitol whether he was confident Trump would rescind the nomination, Cruz said, "I certainly hope so."
In a May 31 tweet, Cruz wrote, "The nominee didn't just represent a client; at his confirmation he affirmatively declared 'there is no distinction' btwn Catholic teachings and KKK bigotry. I'm a NO. And POTUS should withdraw the nomination."
Michael S. Bogren, a Michigan attorney, was nominated by President Trump to be a judge for the District Court for the Western District of Michigan.
During a Senate Judiciary Committee hearing on May 22, Sen. Josh Hawley (R-Mo.) questioned Bogren's argument in a case in East Lansing that a "Catholic family's pointing to the teachings of their church is equivalent to a KKK member invoking Christianity."
After some back and forth, Bogren finally said yes, "I stand by those comparisons." (See video.)
"There is no distinction," he said, between a Catholic family following their religious beliefs against homosexual "marriage" and a KKK member invoking Christianity to racially discriminate.
More than 70 conservative leaders have signed an open letter calling for Bogren's nomination to be withdrawn.
Source material can be found at this site.