Terry Bean, 66, co-founded Human Rights Campaign and Gay And Lesbian Victory Fund before putting more than $500,000 behind Obama in 2012
He has been charged with 2 counts of sodomy and 1 count of sex abuse
Boyfriend, 25, also charged with abusing the 15-year-old boy in Oregon
Lawyer claims Bean is a victim of an 'extortion ring', he has been bailed 
By MIA DE GRAAF 
A high profile gay rights activist and Democrat fundraiser with direct links to Barack Obama has been charged with sexually abusing a 15-year-old boy with his boyfriend.
Terry Bean, 66, co-founded two of the biggest national campaign groups and raised more than $500,000 for his friend Barack Obama, in his 2012 re-election bid.
He was arrested at his home in southwest Portland on Wednesday and indicted with two counts of third-degree sodomy and one count of third-degree sex abuse of a child.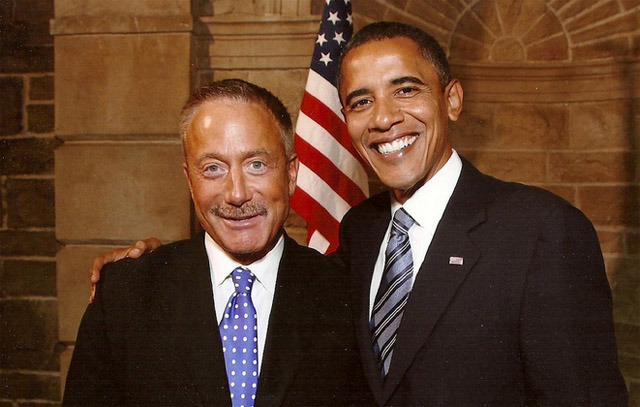 The rape incident involved the sexual encounter with a 15-year-old boy in 2013 in Eugene, Oregon, police said.
His ex-boyfriend, Kiah Loy Lawson, 25, was also arrested and charged, according to USA Today.
Bean is a revered and respected member among the gay rights activist community and with the Democratic Party, Oregon Live reports.
He helped to form the Human Rights Campaign and the Gay And Lesbian Victory Fund.
The trained broker was forced to defend himself earlier this year after his co-accused, Lawson, revealed Bean secretly filmed their sexual encounters with children.
However, his lawyer Kristin Winemiller has lambasted claims he molested a teenage boy.
Winemiller released this statement: 'Terry Bean is a highly respected community leader who has devoted his life to bettering our community.
'Over the course of several months in 2013-2014 Terry was the victim of an extortion ring led by several men known to law enforcement.
'This current arrest is connected to the ongoing investigation of that case in which Mr Bean has fully cooperated.
'No allegations against Terry Bean should be taken at face value.
'We look forward to the opportunity to clear his name.'
Bean was bailed on Wednesday for 10 per cent of his $50,000 bond, Oregon Live claimed.