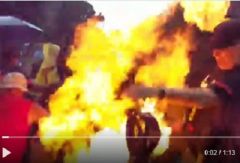 When a group of self-avowed Communist protestors took to burning the American flag Thursday in protest of President Donald Trump's "Salute to America," an unidentified veteran of the United States Marine Corps grabbed the burning flag by his bare hands and put out the fire.
One of the protesters, Gregory "Joey" Johnson, won a landmark Supreme Court case in 1989, in which the court established the right to burn the American flag, ruling that it is protected speech under the First Amendment.
Footage of White House flag burning ahead of Trump's #SaluteToAmerica

A man who identified himself as a veteran grabbed the burned flag #FourthofJuly pic.twitter.com/nJdWlMpdKp

— Steven Nelson (@stevennelson10) July 4, 2019
The protesters ignited two American flags on Thursday. Chanting, "Burn, baby, burn" and "America was never great," the communists joined Johnson in celebrating the desecration of the first American flag, before members of the Secret Service snuffed the fire.
When a second flag was set on fire, a self-proclaimed Marine Corps veteran pushed his way to the burning flag and put it out with his bare hands.
Access to Lafayette Square was temporarily suspended among the fights and arrests.
Video of the incident captured and posted on Twitter by Washington Examiner White House Correspondent Steve Nelson has gone viral.
Source material can be found at this site.