Bill Clinton and Jeffrey Epstein
Florida billionaire Jeffrey Epstein was arrested on Saturday in New York for banging little girls.
He also faces federal sex trafficking charges of minors.
Reporter Yashar Ali believes there may be a second defendant in the Epstein case.
4. Also they note that the fact that the indictment won't be unsealed until Monday is also unusual and COULD indicate that there's a second defendant in this case.

— Yashar Ali ? (@yashar) July 7, 2019
In May 2016 FOX News reported that former President Bill Clinton traveled with Jeffrey Epstein on his famous "Lolita Express" at least 26 times and frequently ditched his secret service detail.
And now this…
OANN reported that the Clinton Presidential Library is refusing to hand over information on Bill Clinton's ties to Jeffrey Epstein.
Clinton Presidential Library is refusing to hand over information on Bill Clinton's ties to Jeffrey Epstein pic.twitter.com/0hV77bHbmw

— Jack Posobiec ?? (@JackPosobiec) July 8, 2019
Billionaire Epstein arrested for sex-trafficking minors — will he name names?
This article was sourced from Hot Air
The first time Jeffrey Epstein faced charges for sexual abuse of minors, he got a sweetheart deal from prosecutors.
This time around, the billionaire hedge-fund tycoon may not be so lucky — and neither may be the people with whom he pals around.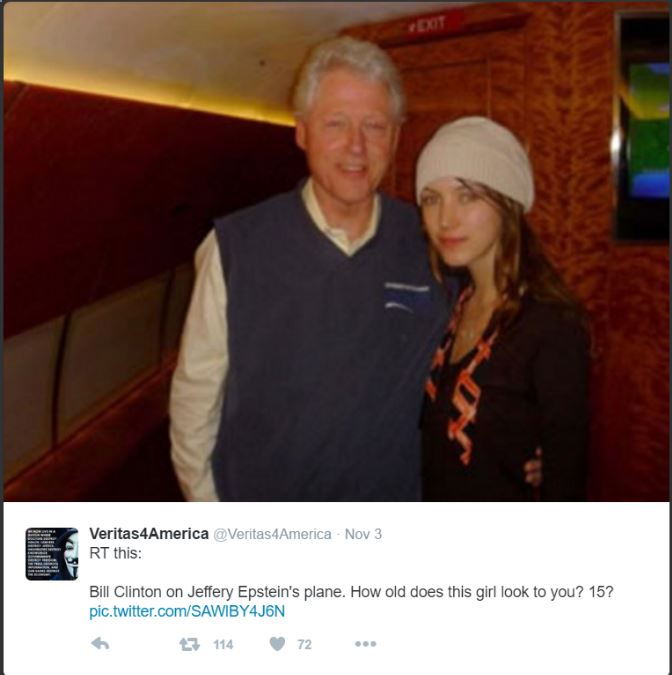 Epstein will appear in federal court after getting arrested over the weekend on a whole new set of charges that sound depressingly familiar:
Billionaire pedophile Jeffrey Epstein was arrested for allegedly sex trafficking dozens of minors in New York and Florida between 2002 and 2005, and will appear in court in New York on Monday, according to three law enforcement sources.
The arrest comes about 12 years after the 66-year-old financier essentially got a slap on the wrist for allegedly molesting dozens of underage girls in Florida.
For more than a decade, Epstein's alleged abuse of minors has been the subject of lawsuits brought by victims, investigations by local and federal authorities, and exposés in the press. But despite the attention cast on his alleged sex crimes, the hedge-funder has managed to avoid any meaningful jail time, let alone federal charges.
The new charges allege that Epstein sexually exploited dozens of underage girls in a now-familiar scheme: paying them cash for "massages" and then molesting or sexually abusing them in his Upper East Side mansion or his palatial residence in Palm Beach. Several employees and associates allegedly recruited the girls for Epstein's abuse, and some victims eventually became recruiters themselves, according to law enforcement. The girls were as young as 14, and Epstein knew they were underage, according to police.
How depressing is this familiarity? The charges sound like the same potential charges that then-US Attorney Alex Acosta, now Secretary of Labor, dealt away in allowing Florida to undercharge Epstein instead
However, the Washington Post reports that they're not the same charges, because the new indictment involves new criminal conduct discovered since Epstein's plea deal:
Prosecutors could face significant challenges if the new case is premised on conduct that was covered as part of Epstein's plea deal, no matter how unsavory it might be. But if investigators discovered wrongdoing they did not know about previously or that was not covered by the plea — even if it occurred years in the past — they would be allowed to bring new charges.
A person familiar with the matter said prosecutors do not have significant double jeopardy concerns or concerns about Epstein's previous plea, meaning the charges probably involve new victims or new alleged wrongdoing. …
The precise nature of the charges — and how they differ from the previous allegations to which Epstein, now 66, pleaded guilty in 2008 — could not immediately be learned. Epstein attorney Martin Weinberg did not respond to a request for comment late Saturday. A spokesman for the U.S. attorney's office in Manhattan, where Epstein is expected to appear in federal court this week, declined to comment.
The latest charges add a significant new wrinkle to the considerable political and legal saga surrounding Epstein.
The wealthy financier — who counted among his friends President Trump and former president Bill Clinton — pleaded guilty in 2008 to state charges in Florida of soliciting prostitution in a controversial arrangement that allowed him to resolve far more serious federal allegations of molesting young girls.
Some of this might involve crimes ignored in the first plea deal, which could at least theoretically still be tried.
Double jeopardy does not attach to uncharged crimes in a plea deal, but plea deals negotiated by the kind of attorneys Epstein could afford can be complicated affairs. A Miami Herald investigation last year by Julie Brown into the Epstein plea deal uncovered more victims, younger victims, who never got a chance to fight for their day in court. That exposé embarrassed the Department of Justice and Florida officials, and that might have motivated them to give this another shot — assuming it can get past the plea deal.
On the other hand, this indictment might involve new criminal behavior.