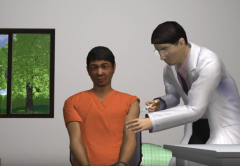 The republic of Ukraine, which borders Poland, Romania, and Russia, has passed a law that will allow for the chemical castration of pedophiles, according to the Daily Mail. The law will apply to men "between 18 and 65 who are found guilty of raping or sexually abusing minors, and could affect thousands of people a year," said the news outlet.
In a recent case, 11-year-old Daria Lukyanenko was killed after she fought back against her alleged attacker, Nikolay Tarasov, who was 22. Her body was found in a village cesspool in the Odessa region.
Police chief Vyacheslav Abroskin, according to the Daily Mail, stated that "five children were raped in four regions of Ukraine … within just 24 hours" this week. In addition, official figures for 2017 show there were 320 child rapes in Ukraine, "but the number of paedophile sex abuse cases are believed to run into the thousands," reported the newspaper.
For chemical castration, the subject is injected with anti-androgen drugs, which are chemicals designed to lower the production of testosterone and reduce libido and sexual activity.
Chemical castration is already in use in Kazakhstan. It was introduced following an increase in child rapes to about 1,000 a year between 2010 and 2014, reported the Daily Mail.
Alabama passed a chemical castration for sex offenders law in June 2019. "The new law will mean that those who abused children under the age of 13 will be injected with hormone-blocking drugs before leaving prison," said The Atlantic.  "The medication will have to be administered until a judge, not a doctor, deemed it no longer necessary."
Source material can be found at this site.