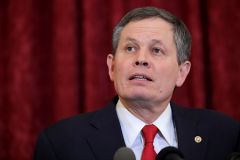 The citizens of his state are "sick and tired" of hearing Democrats attack America and its founding principles, Republican Montana Senator Steve Daines declared Monday.
On Monday, Sen. Daines took to Twitter to voice his support of President Donald Trump:
"Montanans are sick and tired of listening to anti-American, anti-Semite, radical Democrats trash our country and our ideals. This is America. We're the greatest country in the world.

"I stand with @realdonaldtrump"
On Sunday, Trump sparked controversy when he attacked "'Progressive' Democrat Congresswomen" for espousing policies "from countries whose governments are a complete and total catastrophe, the worst, most corrupt and inept anywhere in the world."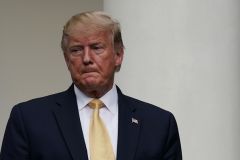 (CNSNews.com) — President Donald Trump's Sunday morning tweets telling far-left freshmen Congresswomen to "go back" to the "places from which they came" was followed eleven hours later by an explanation — sort of.
As many Democrats and the liberal media called Trump an out-and-out "racist" for his remarks (see below), the president tweeted Sunday night:
So sad to see the Democrats sticking up for people who speak so badly of our Country and who, in addition, hate Israel with a true and unbridled passion. Whenever confronted, they call their adversaries, including Nancy Pelosi, "RACIST." Their disgusting language…..

….and the many terrible things they say about the United States must not be allowed to go unchallenged. If the Democrat Party wants to continue to condone such disgraceful behavior, then we look even more forward to seeing you at the ballot box in 2020!
The three tweets that consumed the Sunday-Monday news cycle were apparently directed at Reps. Ilhan Omar (the Minnesota Democrat was born in Somalia) and Reps. Alexandria Ocasio-Cortez (D-N.Y.), Rashida Tlaib (D-Mich.), and Ayanna Pressley (D-Mass.). The latter three were all born in the United States.
Trump wrote:
So interesting to see "Progressive" Democrat Congresswomen, who originally came from countries whose governments are a complete and total catastrophe, the worst, most corrupt and inept anywhere in the world (if they even have a functioning government at all), now loudly……

….and viciously telling the people of the United States, the greatest and most powerful Nation on earth, how our government is to be run. Why don't they go back and help fix the totally broken and crime infested places from which they came. Then come back and show us how….

….it is done. These places need your help badly, you can't leave fast enough. I'm sure that Nancy Pelosi would be very happy to quickly work out free travel arrangements!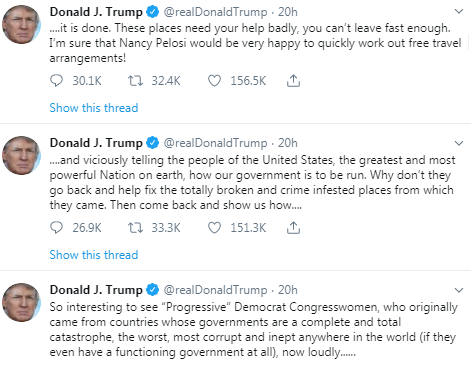 For the record, Trump did tell the women to "go back" to "fix" things, but he also wrote: "Then come back…"
Some of the many of the Democrats running for their party's presidential nomination blasted Trump for his Sunday morning comments. Their  various tweets follow here:
Elizabeth Warren:
Let's be clear about what this vile comment is: A racist and xenophobic attack on Democratic congresswomen. This *is* their country, regardless of whether or not Trump realizes it. They should be treated with respect. As president, I'll make sure of it.
Beto O'Rourke:
This is racist. These congresswomen are every bit as American as you — and represent our values better than you ever will.
Pete Buttigieg:
The flag I saluted when I was in uniform, the flag to which we pledge allegiance, represents a nation that honors the voices of those who call for justice—and we know this to be among the truer acts of loyalty to the republic for which it stands.

There's nothing new about denying the belonging of those who call our nation to its highest values and criticize those in power. Those who launch such attacks reveal that they do not understand what is greatest about America.

As an immigrant and a citizen, my dad cared deeply about this country. Once, when he was speaking at a campus protest against Reagan's accommodation of apartheid, a passing student noticed Dad's brown skin and unique accent and called out: "go home!" He answered: "I am home."
Joe Biden:
America's strength is and has always been rooted in our diversity. But President Trump continues to spew hateful rhetoric, sow division, and stoke racial tensions for his own political gain. Let's be clear: Racism and xenophobia have no place in America.
Kamala Harris:
Let's call the president's racist attack exactly what it is: un-American.
Kirsten Gillibrand:
The birther-in-chief continues to spout racist, un-American garbage to distract from his failing administration. Democratic women of the House do more to make our country great than Trump ever will.
Bernie Sanders:
When I call the president a racist, this is what I'm talking about We must stand together for justice and dignity towards all.
Cory Booker:
You don't belong here. You're not one of us. Go back to where you came from. We've heard this our whole lives. Now we hear it from the Oval Office. If you're sick of it too, support the women who are leading the fight against Trump every day in Congress.
(Booker added a link to ActBlue, a site that facilitates donations to Democratic candidates)
Bill de Blasio:
This IS their country. And they're doing a damn fine job working to clean up YOUR broken, crime infested administration.
John Hickenlooper:
This makes me sick. realDonaldTrump continues to divide the country and is now attacking women of color serving in Congress. Shame on him. Real leaders bring us together, not tear us apart.
Tim Ryan:
This is disgusting, vile and racist. The President of the United States is telling four congresswomen of color to go back to where they came from. It's un-presidential and un-American. Diversity does not weaken us, it makes us stronger.
Rep. Seth Moulton:
Republicans know what the president said is racist. They just don't have the guts to say so.
Gov. Jay Inslee:
Donald Trump is a coward and a racist. We need to make sure he's nothing but a blip in history.
Former Rep. John Delaney:
Trump's xenophobic and racist tweets are an affront to our values of decency and diversity. He doesn't understand that disagreements are part of democracy and that he has a duty, above all others, to set a proper tone for our nation. We must deliver him a crushing defeat in 2020.
Former HUD Secretary Julian Castro:
"Go back to Africa." "No Irish Need Apply." "Chinese Excluded." "Go back to Mexico." In every generation, Americans have faced those who made their political careers by dividing us. We are facing one again. We must stand together and defeat him.
Businessman Andrew Yang:
Characterizing members of Congress as being from another country is part of the problem. We need to come together and stop putting up false barriers between different groups of people.
House Speaker Nancy Pelosi (D-Calif.) also responded to Trump, in two tweets:
When @realDonaldTrump tells four American Congresswomen to go back to their countries, he reaffirms his plan to "Make America Great Again" has always been about making America white again. Our diversity is our strength and our unity is our power.

I reject @realDonaldTrump's xenophobic comments meant to divide our nation. Rather than attack Members of Congress, he should work with us for humane immigration policy that reflects American values. Stop the raids – #FamiliesBelongTogether!
MoveOn.org is already fund-raising off Trump's "go back" tweets, urging liberals to "stand with Reps. Omar, Ocasio-Cortez, Tlaib, and Pressley" by pitching in directly to their re-election campaigns and to MoveOn's election program "so we can support leaders like these…"
Source material can be found at this site.