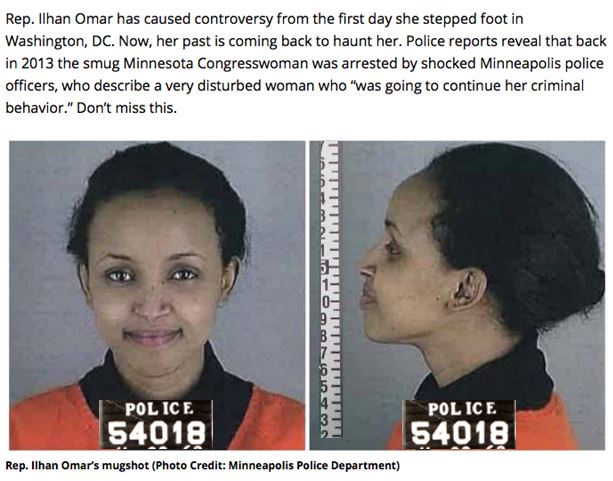 Alpha News from Minnesota released Part I of their Ilhan Omar investigation tiled "The Secrets of Ilhan Omar" on Tuesday.
The shocking video explores the myriad of evidence that a member of Congress Ilhan Omar committed Bigamy, Marriage Fraud, and Tax Fraud.
The video is currently posted on YouTube watch it before they remove it.
It should be noted that by American law — When a marriage fraud is discovered, not only might the immigrant face severe immigration consequences, but both members of the marrying couple may face criminal penalties… An immigrant who is found to have committed marriage fraud would likely be removed from the United States (deported).
Jack Posobiec also posted the video on his popular Twitter page.
Be a shame if this went viral pic.twitter.com/LXAoASl2AS

— Jack Posobiec ?? (@JackPosobiec) July 17, 2019
The Gateway Pundit was sent several updates on Ilhan's story in the past two days. Our sources are hesitant to go public due to concerns of retribution from certain segments in the US Somali community.
What is interesting is that as Ilhan continues to deny her marriage to her brother there is clear evidence that she is lying.
The marriage certificate between her and Ahmed Nur Said Elmi has his birthdate as April 4, 1985.
David Steinberg reported at PJ Media:
According to official student enrollment records archived by St. Paul Public Schools and the state of Minnesota, an "Ahmed N. Elmi" was enrolled as a senior in the Class of 2003 at Arlington Senior High School in St. Paul, MN, from September 6, 2002, until June 10, 2003. He graduated and received a diploma.

The enrollment record states that "Ahmed N. Elmi" was born on April 4, 1985.

Both Ilhan Omar's 2009 marriage documents and her 2017 divorce proceedings state that Ahmed Nur Said Elmi was born on April 4, 1985.

After an extensive background search, I have not been able to find any other person named "Ahmed Nur Said Elmi," "Ahmed N. Elmi," or even "Ahmed Elmi" with the birthdate April 4, 1985. The man Ilhan Omar married and the 17- to 18-year-old who attended Arlington Senior High School in St. Paul, MN, in 2002-2003 are one and the same.
It is also clear that her brother-husband Ahmed Nur Said Elmi has an almost identical name to her father Nur Said Elmi Mohamed.