Via Economic Cycle Research Institute (ECRI),
The manufacturing PMIs have become the holy grail of indicators for many market participants. ECRI's U.S. Leading Index of Manufacturing PMIs (USLIMPMI) anticipates cyclical shifts in the ISM and Markit manufacturing PMIs for the U.S. to a 2 2/3-year low in June and the Markit PMI fell to a nearly-ten-year low in July.
The USLIMPMI, which typically leads cyclical turns in both PMIs by a couple quarters, turned down in early 2017 (chart, upper panel), and the PMIs followed suit in 2018 (lower panel). With the USLIMPMI falling back towards February's decade low in May, it was clear that PMIs would remain in cyclical downturns, which has held true, as the ISM PMI slipped.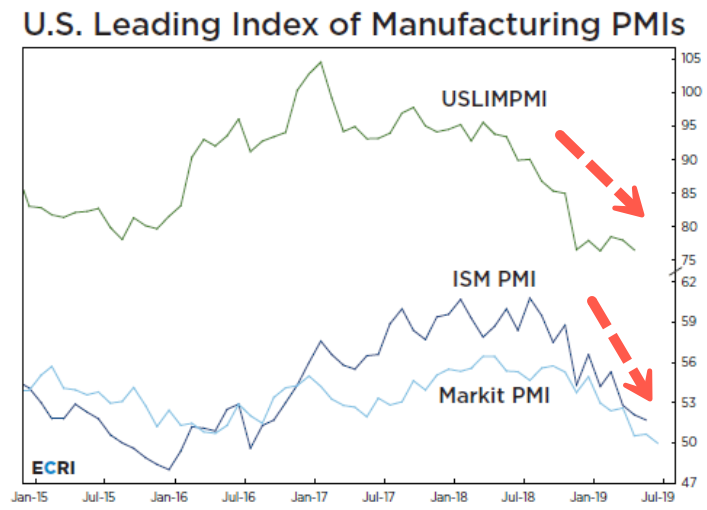 The USLIMPMI is one of a few ECRI leading indexes that anticipate cyclical turns in PMIs. Indeed, as we highlighted in early 2018, "ECRI's long leading indexes have statistically significant leads over composite PMIs for the G7 economies."Meanwhile, the early-2017 downturn in ECRI's Global Leading Manufacturing Index growth anticipated the late-2017 cyclical downturns in both global industrial growth and the global PMI, even though the global PMI failed to predict the downturn in global industrial growth.
Looking ahead, the USLIMPMI is an important tool for anticipating directional changes in the PMIs, which will continue to shape market perceptions about the economy. The latest USLIMPMI update, released to our clients last month, already clarifies the PMI outlook.
And earlier on Wednseday, we reported the  collapse in European Manufacturing PMIs (led by Germany), and 3rd month of contraction in Japan PMIs; US PMIs were expected to modestly rebound in preliminary July data, but instead the picture was mixed:
US Manufacturing PMI missed – printing 50.0 versus 51.0 exp and down from 50.6 in June
US Services PMI beat – printing 52.2 versus 51.8 exp and up from 51.5 in June.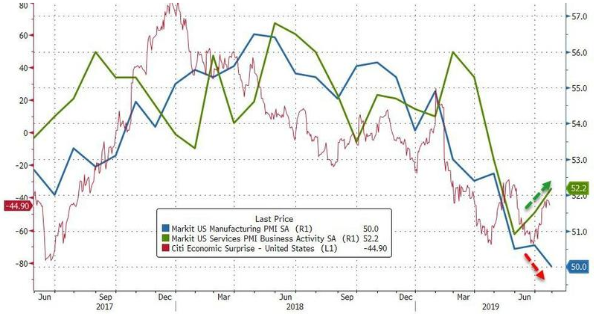 The recent industrial slowdown, abroad and domestic, shows economic growth rates around the world are simultaneously moving lower — and that could spell disaster for the global economy as a cycle of vulnerability could give way to a shock in the next several quarters that would usher in a world wide trade recession.