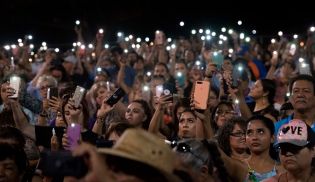 (CNSNews.com) – The Mexican government said Sunday it is considering applying for the extradition of the American man accused of shooting dead 20 people at a Walmart in El Paso, Texas, at least seven of them Mexican nationals.
Another seven of the 26 people injured in Saturday's shooting in the busy store were also Mexicans, according to Mexican Foreign Secretary Marcelo Ebrard. El Paso is located on the U.S.-Mexico border, across the Rio Grande from Ciudad Juarez.
Ebrard said Mexico's Attorney General of Mexico is studying whether to initiate legal action for an act of terror against Mexican nationals in the United States.
"If appropriate, the attorney general's office will evaluate if the necessary elements exist to request the extradition of the perpetrator or perpetrators of this act," Ebrard told a news conference. "This should come as no surprise, because for Mexico, this individual is a terrorist."
A 21-year-old Texas man in custody on suspicion of carrying out the mass shooting has been named as Patrick Crusius, of Allen, Texas.
A manifesto posted online shortly before the shooting, entitled "The Inconvenient Truth," rails against immigration and Democratic Party policy, as well as "pro-corporation" sentiment among Republicans. The document, believed to have been written by the suspect, expresses the expectation that mass shootings will be the "incentive" that drives Hispanic foreigners to return to their home countries.
The U.S. Attorney for the western district of Texas, John Bash, told a press conference in El Paso on Sunday that a thorough investigation was under way with a view to bringing federal hate crimes charges and federal firearms charges, "which carry a penalty of death."
"We are also treating this as a domestic terrorist case," Bash said. "And we're going to do what we do to terrorists in this country, which is to deliver swift and certain justice."
"The state charge is capital murder, and so he is eligible for the death penalty. We will seek the death penalty," said Jaime Esparza, El Paso County District Attorney. "We will hold him accountable."
"Some Texas justice will be served up," tweeted Texas Gov. Greg Abbott on Sunday night.
In Mexico City, Ebrard spelled out his government's planned response, which he said included legal, diplomatic, and protective measures.
"Mexico is outraged, but we are not proposing to meet hate with hate," he said. "We will act reasonably and firmly, in accordance to the law."
Apart from the legal steps, Ebrard said his ministry would send a diplomatic note to the U.S. government on Monday, "respectfully but firmly" asking for it to take a clear and forceful position against hate crimes.
Mexican consulates in several states would be instructed to provide additional measures to protect Mexican nationals, he said, without elaborating on what those steps would entail.
Mexico would also convene a conference of all Spanish-speaking countries that have expatriate communities in the U.S., "to advocate for defending the rights of Hispanics in the U.S. correctly and according to the law," he said.
Ebrard also conveyed his condolences to "the people and government of the United States" over the shooting; another in downtown Dayton, Ohio about 13 hours later which cost nine lives; and several deadly shootings in Chicago over the weekend.
"We know that the people of the United States are also in mourning," Ebrard said. "We hope that what we have lived through this weekend never happens again. Never again."
In a statement referring to both the El Paso and Dayton shootings, the FBI said it was "concerned that U.S.-based domestic violent extremists could become inspired by these and previous high-profile attacks to engage in similar acts of violence. The FBI asks the American public to report to law enforcement any suspicious activity that is observed either in person or online."
Source material can be found at this site.