(CNSNews.com) – Twitter's decision to lock the account of Majority Leader Mitch McConnell's reelection campaign – for posting a video showing protestors making violent threats against him – sparked an avalanche of announcements Thursday by major Republican campaign committees, super PACs, and lawmakers to buy no advertising on the social media platform.
National Republican Senatorial Committee (NRSC) spokesman Jesse Hunt called Twitter's decision to suspend the @Team_Mitch account "another ridiculously hostile act toward conservatives" and announced that the NRSC will stop spending on the platform as a result.
NRSC executive director Kevin McLaughlin tweeted that Twitter had taken no action when the offensive hashtag #MassacreMitch trended on the platform for a full day.
"Someone threatens to stab the Majority Leader, @Team_Mitch posts the video and THEY get locked out."
Parker Poling, the executive director of the National Republican Congressional Committee (NRCC) – the GOP's official House campaign arm – said that it too will halt ad spend on Twitter, and "stand firmly with our friends against anti-conservative bias."
Republican National Committee (RNC) chief of staff Richard Walters tweeted that both the RNC and the Trump campaign would take the same stand.
"Any future ad $ either organization was planning to spend with @Twitter has been halted until they address this disgusting bias," Walters said.
Also signing on to a snowballing campaign were the Congressional Leadership Fund (CLF), the Senate Leadership Fund (SLF), the Republican Governors Association (RGA), the Republican State Leadership Committee (RSLC), the Republicans Attorneys General Association, and the Republican Party of Kentucky, McConnell's home state.
They were joined by GOP lawmakers including Sens. Ted Cruz (Texas), Cory Gardner (Colo.), Thom Tillis (N.C.), Martha McSally (Ariz.), Marsha Blackburn (Tenn.), and Reps. Sean Duffy (Wisc.), Bill Cassidy (La.)
The tweet at the center of the row, posted by the McConnell campaign on Monday, said, "Last night, an angry left-wing mob of Amy McGrath supporters stormed Senator McConnell's Louisville home screaming obscenities and hoping someone would 'just stab the motherf***er in the heart.'" It then linked to a video clip. (McGrath is the Democrat challenging McConnell's for his Senate seat in 2020.)
The Louisville Courier-Journal identified the person who shouted those words as Black Lives Matter Louisville leader Chanelle Helm, and quoted her as telling the paper afterwards she did not regret making the comments.
Other news reports on the protest, which came after the deadly shootings in Texas and Ohio, also quoted demonstrators as shouting obscenities including "F**k your thoughts and prayers, Mitch. F**k you, f**k your wife, f**k everything you stand for."
According to McConnell campaign manager Kevin Golden, Twitter blocked the account on Wednesday on the grounds that the video it had posted violated Twitter's rules.
Queries sent Thursday to Twitter's media office, both on the decision to lock the account and the growing GOP reaction, brought no response by press time.
'Left-wing tilt'
In an interview Thursday evening with the Louisville-based radio station WHAS, McConnell – who is nursing a broken shoulder sustained in a weekend fall – said his campaign was in a "major war" with Twitter.
"Twitter's perfectly fine with carrying #MassacreMitch, which is obviously an invitation to, to violence, but when those kind of words are directed at me, they, they shut us down, locked our account down," he said. "So we're in a major war with them and they haven't, they haven't given up yet."
"And this shows you the political tilt, the left-wing tilt of these big companies, and how they try to suppress speech when it's inconvenient," McConnell added.
Comments given by some of the GOP bodies and individuals in announcing their decisions on withholding spending on Twitter include:
RGA executive director Dave Rexrode: "The anti-conservative bias and double standards must end."
RSLC president Austin Chambers: "Enough is enough."
CLF super PAC: "Totally unbelievable … We won't be spending any ad $$$ on Twitter until they stop this unfair censorship of conservatives."
SLF super PAC: "Twitter, get your act together. We're not spending on your platform until you correct your unfair treatment of @Team_Mitch."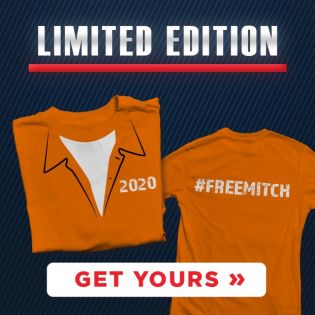 Sen. Cruz: "This is unbelievable even for Twitter. My campaign is standing with the NRSC too. We will not spend a single penny on Twitter until @Team_Mitch's access has been restored."
Sen. Gardner: "Their decision to suspend @Team_Mitch for sharing threats aimed at McConnell while ignoring the people making the threats shows their bias."
Sen. Tillis: "Twitter has chosen to become a partisan outlet, silencing conservatives at the same [time as] they give the far-left a free pass on incendiary rhetoric."
Rep. Duffy: "This is how the extreme Left operates. If they don't agree with you, they silence you. I'll be joining NRCC in halting all spending on Twitter until they agree to stop targeting conservatives."
Rep. Cassidy: "Silicon Valley's bias against conservatives has gone on too long. Team Cassidy will not be advertising with Twitter until this is addressed …"
McSally for Senate: "Conservative voices shouldn't be silenced. This platform should patrol its content equally –we are not spending any money with Twitter until it restores @Team_Mitch."
The NRSC has begun promoting for sale T-shirts featuring the slogan #FreeMitch.
Source material can be found at this site.