(CNSNews.com) – The Taliban claimed responsibility for a massive suicide bombing in Kabul Wednesday, two days after the U.S. special representative for Afghanistan reconciliation, Zalmay Khalilzad, reported having made "excellent progress" in his talks with the terrorist group.
Fourteen people were killed and 145 were injured in the car bombing at a police complex in the capital.
President Ashraf Ghani said in a statement that those killed and wounded included women and children. He accused the Taliban of "launching terrorist assaults on civilians and public facilities for the sake of receiving concessions in peace talks."
In an apparent attempt to sidestep accusations that it was killing ordinary Afghans, the Taliban – which styles itself "the Islamic Emirate" – said in a statement that its "martyr attack" had been carried out "at a site where civilian movement was not allowed."
"The powerful explosion destroyed the buildings, killing and wounding dozens of gunmen including officers," the group said, naming the suicide bomber as "a hero of Islamic Emirate, Mullah Jabbar Logari."
On his official Twitter account Taliban spokesman Zabihullah Mujahid sought to justify the attack, saying "justice is being delivered" in response to security forces' bombings and raids on villages.
"These ops are a reaction to your daily crimes," he tweeted. "You shall pay for your crimes in villages rural areas right in Kabul other cities. Your nests shall be razed."
The latest in a series of deadly attacks came amid ongoing "peace" talks in the Qatari capital, Doha, between Khalilzad and Taliban representatives.
On Monday the U.S. envoy called progress in those talks "excellent."
On Wednesday, however, Khalilzad's tone was somber.
"Indiscriminate attacks and intentional Injury to civilians are never warranted," he tweeted. "We condemn the attack today in Kabul for which the Taliban claimed responsibility, and in which scores were killed and reportedly more than 145 injured, including many civilians."
"The focus should be on immediately reducing violence as we move closer to intra-Afghan negotiations that will produce a political roadmap and a permanent ceasefire," Khalilzad added.
'Medieval'
Peace talks notwithstanding, as Afghanistan heads towards (already twice-postponed) elections in late September, the Taliban issued a statement on Tuesday essentially threatening to kill Afghans if they attend campaign rallies and events.
Warning that the Taliban will "exert utmost efforts" to prevent the election from taking place, it called on Afghans to "boycott this process and not partake in any campaign rallies because your participation will only be used as a ruse by the invaders and their hirelings to gain validity."
"To prevent losses, God forbid, from being incurred by our fellow compatriots, they must stay away from gatherings and rallies that could become potential targets," it added.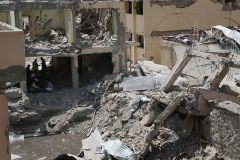 Ghani's spokesman, Sediq Sediqqi, condemned what he called "yet another direct Taliban threat to the civilians and to a process in which the Afghans want to elect their government."
Terrorists have already struck the campaign: Late last month at least 20 people were killed in a suicide bombing and gunfire attack targeting the Kabul headquarters of vice-presidential candidate Amrullah Saleh, Ghani's running mate.
The Taliban has yet to claim responsibility for that attack, but the group reviles Saleh, a former Afghan intelligence chief who is an arch critic of the terrorist group and the Pakistan military that has long been accused of colluding with it.
Saleh, who survived the attack, responded defiantly Tuesday to the Taliban statement condemning the Sept. 28 elections.
"Denouncement of elections by terrorist Taliban isn't a news," he tweeted. "They are created backed to suppress a nation, bring about medieval system in the name of religion to feed the greedy beast of Pakistani establishment. They are nothing but 'sham Afghans.'"
'Conditions-based withdrawal'
U.S. forces have been in Afghanistan since October 2001, when they invaded after the 9/11 terror attacks to topple the Taliban regime that harbored al-Qaeda.
Eighteen years on, Khalilzad's mission is designed to deliver an agreement with the Taliban that will cover the withdrawal of the now 14,000 U.S. troops in the country, a ceasefire, and a Taliban commitment that it will not allow terrorist groups like al-Qaeda to operate in Afghanistan again.
Unlike al-Qaeda, the Taliban has never been formally designated a foreign terrorist organization by the U.S. government, despite a history of terrorist violence that continues to the present day. (It has been listed, since 2002, as a "specially designated global terrorist," under an executive order designed to disrupt funding to terrorists.)
Last week Secretary of State Mike Pompeo said there was "no deadline" for the planned withdrawal of U.S. troops.
Speaking to reporters traveling with him in Asia, he pushed back at press reports which he said had mischaracterized earlier comments to the effect that there was an intention to pull the troops out by the 2020 U.S. election.
Pompeo said Khalilzad was working "to try and deliver a peace and reconciliation plan that will permit us to conduct a conditions-based withdrawal from Afghanistan as quickly as we can execute it."
Source material can be found at this site.