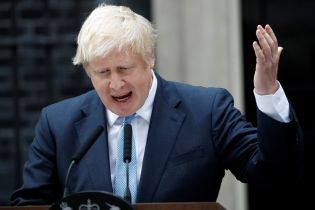 Nigel Farage Pledges to Help Boris Johnson Achieve Brexit if Snap Election is Called
(CNSNews.com) – Tuesday promises to be a day of high drama in Westminster, where Prime Minister Boris Johnson is expected to call a snap general election next month – the third in five years – if lawmakers proceed with an effort to block his plan to lead Britain out of the European Union by October 31, with or without an agreement with Brussels.
Speaking outside Downing Street on Monday, Johnson called on lawmakers to vote against a "pointless" attempt by Jeremy Corbyn's opposition Labour Party to delay Brexit. His message was thought directed in particular at two dozen rebels in his Conservative Party who have indicated they could vote against the prime minister.
As he spoke, chants of "stop the coup" could be heard from protestors near the House of Commons, following the Queen's approval of Johnson's request to suspend parliament for five weeks. The tactic, designed to limit the time his opponents have to block a so-called "no-deal Brexit," has sparked large protests.
Johnson said that if lawmakers support him, he would be able to achieve improvements – at an E.U. summit scheduled for October 17 – to the earlier agreement negotiated by his predecessor, Theresa May. May's deal was rejected by parliament three times, prompting her resignation.
Johnson made it clear that he would under "no circumstances" ask the E.U. to delay Britain's exit beyond the Oct. 31 deadline.
"We will not accept any attempt to go back on our promises or scrub that referendum," he said, referring to the 2016 vote in which Britons by 52-48 percent supported an exit from the 28-member E.U.
Johnson urged lawmakers to allow negotiators to do their jobs without a "sword of Damocles over their necks – and without an election," which he said neither he nor the country wants.
Labor members, with some support from the Conservative benches, plan to put forward legislation on Tuesday – under a rule that allows for the calling of urgent debates – that would force the government to ask the E.U. to delay Brexit until the end of next January.
If they do so, Johnson is expected to call for an early election, likely on October 14. The move would require the backing of two-thirds of parliament but Labour, which scents the possibility of defeating the Tories, would probably vote in favor of going to the polls.
"I will be delighted when the election comes, and I'm ready for it, you're ready for it, we're ready for it," a fired-up Corbyn told supporters near Manchester on Monday evening. "We'll take that message out there and above all, we will win!"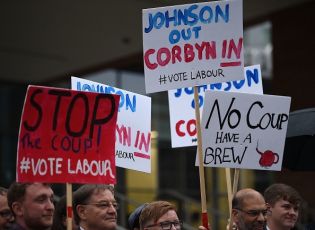 '… do the right thing to win our independence'
Nigel Farage, leader of the upstart Brexit Party, said Monday his party would be everything in its power to help Johnson if the prime minister called an early election to seek a mandate for a no-deal Brexit.
"If Boris Johnson is prepared to do the right thing to win our independence, then we are prepared to do the right thing, and we would put country before party, and we would do it every time," he told party members in Colchester, north-east of London.
Farage said the Conservatives have lost so much trust in Britain that the only way they could win a workable majority in an election "to get this country free" would be with the help of the Brexit Party – "and we are ready to play our part in the destiny of this country."
Farage left the Conservative Party almost three decades ago, and helped to launch and later led the United Kingdom Independence Party. He now heads the new Brexit Party, which stunned many when it won 30.7 percent of the British votes in European Parliament elections last May.
President Trump voiced support for Brexit even before taking office.
"People, countries want their own identity and the U.K. wanted its own identity," the then president-elect told The Times of London in January 2017.
Since then, Trump has expressed strong backing both for Johnson and Farage.
In his most recent tweet on the topic, last Wednesday, Trump said, "Would be very hard for Jeremy Corbyn, the leader of Britain's Labour Party, to seek a no-confidence vote against New Prime Minister Boris Johnson, especially in light of the fact that Boris is exactly what the U.K. has been looking for, will prove to be 'a great one!' Love U.K."
Secretary of State Mike Pompeo said when hosting his British counterpart Dominic Raab last month that the Trump administration supports Britain's "sovereign choice, however Brexit ultimately shakes out."
"And we'll be on the doorstep, pen in hand, ready to sign a new [U.S.-U.K.] free trade agreement at the earliest possible time," he added.
Source material can be found at this site.