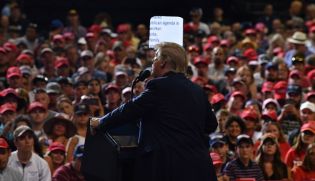 (CNSNews.com) – President Donald Trump told a large rally in New Mexico Monday night that he is "battling against the corrupt establishment of the past, and we're achieving historic victories for the American people."
"Crucially, for your state, we have ended the last administration's war on American energy," Trump told the cheering crowd.
Trump said energy independence means no one has to "panic" when Saudi oilfields are attacked and worldwide production is cut. But Democrats, with their Green New Deal and their proposed bans on fossil fuel production, will make that all go away, he warned.
Here are the president's remarks as he tried to nudge New Mexico into his column in 2020:
"And since my election, natural gas production — big story today — in New Mexico has increased by 40 percent, four-oh. And that means great wages and it means jobs, and that's why you are breaking every single record in your state's book.
"Crude oil production in New Mexico has more than doubled, and going up a lot higher very quickly. And your state's energy revenues are up by nearly two-thirds. Think of that — two-thirds!" Trump said.
"And that's in a short period of time. Give me a little more time, ok?" the president urged, as the crowd chanted "four more years."
Trump continued:
The United States is now the number one producer of oil and natural gas anywhere in the world. And this means more jobs, higher wages, and American energy independence which is what we have.

You know, a few years ago, if we had a problem like you saw two days ago in the Middle East, we would have been in a panic, although not if I were your president. We don't want to panic. We never panic.

But a few years ago, they would have been in a panic. Today, we got a lot of oil, we got a lot of gas. A lot of oil and gas. We don't have to send too many boats over there.

You notice the other day, they said we do not see too many American ships any more. You know why? We are as independent as independent as we want and we are now a net exporter of energy. Revenues from energy production provide up to 25 percent of your state's budget and going much higher in the very near future, and they generated nearly a $1 billion budget surplus in New Mexico.

Thank you very much, President Trump. Thank you.

Now under the Green New Deal that all goes away. It all goes away. It all goes away. You can forget it. No more cows, no more airplanes, no more trips. A single car, make it electric — a single car, you are not allowed to travel more than 162 miles.

They'll call us the hermit nation. We'll never leave our house. It is crazy, but that is OK.
Trump said it's a little early to be making that argument, but he did anyway. He urged New Mexicans, Texans, and other energy producing states to think about what the Green New Deal would mean for them.
"They want to get rid of your energy?" he said. "Explain that one. Explain that. Yet every major Democrat running for president, they want to abolish all production of oil and natural gas. In other words, the Democrats want to completely annihilate New Mexico's economy.
"The Democrats want us to be subservient to foreign producers. They want us to be at the mercy of rogue regimes. That is not happening anymore…"
Source material can be found at this site.