Not long after Democrats illegal spied on Trump and started a year plus long bogus investigation, the insanity from the left does not stop.  Now Democratic lunatics such as Ocasio-Cortez call Trump making a phone call to Ukraine about Biden family crimes is a "national scandal".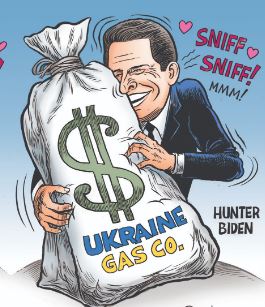 Nancy Pelosi In a statement on Sunday,  specifically said the so called "whistleblower" who reportedly alleged that Trump acted improperly during a July 25 phone call with Ukrainian President Volodymyr Zelenskiy must be allowed to speak to Congress.
The so called "whistleblower" it turns out had no direct knowledge of Trumps conversation with Ukraine. They were not a witness and made the report on hearsay, not to mention a prescient calling another president is not illegal to begin with.
Leftist want to investigate Trump for looking into the Biden crimes, but not the allegations ageist Biden themselves. Ukrainian Foreign Minister Vadym Prystaiko on Saturday denied suggestions U.S. President Donald Trump had put any pressure on the Ukrainian leader Volodymyr Zelenskiy during a phone call in July.
Lindsey Graham called on the Department of Justice to probe the potential criminal acts between the Biden Crime Family and Ukraine.
After leaving office in 2017, Vice President Joe Biden Bragged about strong-arming the government of Ukraine to fire its top prosecutor.
 Joe Biden
made the remarks during a meeting
 of foreign policy specialists. Biden said he, "Threatened Ukrainian President Petro Poroshenko in March 2016 that the Obama administration would pull $1 billion in U.S. loan guarantees, sending the former Soviet republic toward insolvency, if it didn't immediately fire Prosecutor General Viktor Shokin." Biden suggested during his talk that Barack Obama was also in on the threat.
In April John Solomon revealed what Biden did not tell his audience. Joe Biden had Shokin fired because he was investigating bribes to Joe Biden's son Hunter.
Shokin was investigating $3 million in funds that were being transferred out of Ukraine and into accounts in the United States at that time.
Former Attorney General called the Deep State on Thursday following the leak of a private conversation between President Trump and the Ukrainian leader.
"This is a clear example of someone from the Deep State … from the intelligence community," Whitaker said on "The Story with Martha MacCallum." "It was completely overblown. … It will be a big nothing burger."
Matt Whitaker: I just think in this situation this is a prime example where the deep state has tried to use an illegitimate tool to throw up a smoke screen to distract the people on how good things are going.
There was a book released in 2018 called, Secret Empires: How the American Political Class Hides Corruption and Enriches Family and Friends by Peter Schweizer. He revealed another shady deal in China.  He exposes how the Biden crime family secured a billion-dollar China deal just days after former Vice President Joe Biden visited China in 2013.
You read that correctly, the Clinton's aren't the only criminals in politics securing huge contracts with foreign governments off their political status!
According to an exclusive New York Post excerpt from the book, the Biden billion-dollar China deal occurred as follows. In 2013, Hunter Biden was managing partner in the private equity firm Rosemont Seneca Partners. The Chinese funds were managed by Rosemont Seneca Bohai,  which did not involve Chris Heinz.
In December of that year, Vice President Biden and his son Hunter flew aboard Air Force Two to China. Ten days after the trip, a subsidiary of the Bank of China named Bohai Capital signed an exclusive deal with Hunter Biden and Chris Heinz's Rosemont to form a $1 billion joint-investment fund called Bohai Harvest RST. The deal was later increased to $1.5 billion.
"The Chinese government was literally funding a business that they co-owned along with the sons of two of America's most powerful decision makers.
Rudy Giuliani said in an interview that he traveled to Ukraine to push the country's leadership on several probes that may prove Democratic member crimes.  Republicans turning the tables on Democrats and prove that they, not the GOP — were the party that improperly conspired with foreign actors.
Rudy Giuliani later joined Sean Hannity to discuss this international scandal involving Joe Biden and his drug addict son, Hunter Biden.
Rudy told Sean that Joe Biden will be investigated no matter what. Democrats don't like that of course. Comey is not longer in charge of the FBI to look away at Democratic crimes.
Three days later Rep. Adam Schiff (D) told ABC that President Trump should not be allowed to investigate Joe Biden's criminal dealings in Ukraine.
Giuliani has exposed how Kiev laundered $3 million to Hunter Biden, and suggested that the Obama administration turned a blind eye and made the prediction that the scandal is in its infancy.
"If Dem party doesn't call for an investigation of Bidens' millions from Ukraine and billions from China, they will own it," he tweeted. "Bidens' made big money selling public office.
Giuliani titled his first tweet, "NEW FACT," and said Hunter Biden received a one-time payment of $3 million from the Ukraine that went through Latvia and then to Cyprus, before entering the U.
Did Obama know that his VP, the one he put in charge of giving billions to Ukraine, had a son who was making millions on the board of one of the most corrupt companies in Ukraine," he tweeted. "[Hunter] Biden's boss had stolen $5b from Ukraine and was a fugitive. Did Obama know? OF COURSE!
Trump accused Joe Biden of dishonesty in claiming that he never spoke to his son about his business dealings with a Ukrainian energy company, despite Hunter Biden telling the New Yorker that they spoke "just once" about it.
"And now he made a lie when he said he never spoke to his son," Trump said. "Of course you spoke to your son!"