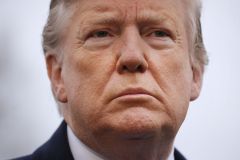 The Trump administration announced on Sept. 25 that it is banning travel visas for senior Iranian officials and their families, which will largely affect Iranian students who study in the United States. The decision was, in part, made in response to Iran holding U.S. citizens in prison for arbitrary reasons.
The Islamic Republic of Iran "threatens peace and stability in the Middle East and beyond," and "it is in the interest of the United States to take action to restrict and suspend" Iran's senior officials from entering this country, said President Trump in a statement.
"Iran arbitrarily detained United States citizens," the president said. "The Iranian regime contributes to humanitarian crises, threatens its neighbors, threatens international shipping, and conducts destructive cyberattacks."
The administration clarified that the visa ban would not apply to lawful U.S permanent residents, any individual who has been granted asylum, and if "based on a recommendation of the Attorney General, that the person's entry would further important United States law enforcement objectives."
According to the U.S. Virtual Embassy Iran, the number of students from Iran has been growing. However, the statement from the White House does not specify the extent to which students under the F1 visa would be affected.
The Voice of America reported that Secretary of State Mike Pompeo told reporters in New York, "For years, Iranian regime elites have shouted, 'Death to America.' Meanwhile, their relatives have come here to live and to work. No more."
Among the people asking the U.S. government for years to pressure Iran to release its Americans are the families of foreign nationals that are still held in Iran. These families want the release of their loved ones, reported NBC News.
"There are at least four Americans currently imprisoned in Iran and human rights groups and U.N. monitors say the detentions are arbitrary and baseless," said NBC News.
Morgan Ortagus, a State Department spokesperson, tweeted, "President Rouhani wants the world to respect Iran. The Iranian regime must earn that respect. They can start by releasing American and other hostages."
Source material can be found at this site.