Update: According to the New York Times, Pelosi says she's not going to push moderate Democrats to support the impeachment push, saying she has "no message to them" and that "we're not whipping this legislation."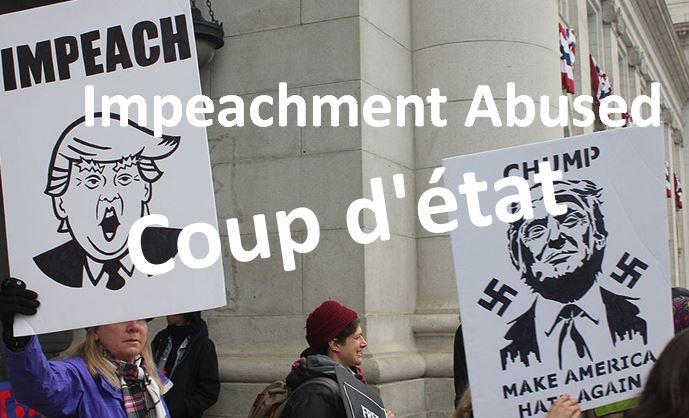 "People have to come to their own decisions," she said, adding "I don't say anything to them."
***
House Democratic leaders are quietly panicking over rumors that 'more than two' Democrats will bail on impeaching President Trump, according to the Washington Post, citing 'multiple officials who spoke on the condition of anonymity to talk frankly.' The paper described House Leader Nancy Pelosi's anguish over defections as "quiet hand-wringing."
Two senior Democratic aides said the total could be as many as a half-dozen, while a third said the number could be higher.

Predictions about some defections come as a core group of centrists from districts Trump won in 2016 are having second thoughts. While many knew impeachment would never be popular in their GOP-leaning districts, some have been surprised that support hasn't increased despite negative testimony about Trump from a series of blockbuster hearings last month. –Washington Post
According to the report, "several moderates have privately pined for other options," primarily censure. Others have considered "splitting the baby," a popular procedure among Democrats, in which they would back one of the two articles of impeachment but not the other.
"I'm still thinking it over," said one such Democrat, Rep. Susie Lee of Nevada. "This is a very grave decision. . . . I'm hearing all sides of it. . . . It's mixed, it's very mixed."
"As soon as they're formally adopted, I'll make a decision," said New Jersey Democrat Josh Gottheimer, another centrist Democrat who attended a Monday night meeting of moderate Democrats who expressed their misgivings about impeachment. "I've said all along, I need to see all the facts. I'm not going to prejudge anything until we get every bit of information."
WaPo points out that Democratic leaders still have the votes to impeach Trump if moderates bail – as House Speaker Nancy Pelosi can lose 17 Democrats for it to pass.
With 233 Democrats, 197 Republicans and one independent — Rep. Justin Amash (Mich.) — House Speaker Nancy Pelosi (D-Calif.) can afford to lose 17 Democrats and still prevail.

Amash is expected to vote to impeach Trump, while Republicans are likely to unite in opposition.
That said, the report also notes that Republicans will seek to capitalize on defecting Democrats, painting the narrative that the party is more divided than ever.