KYIV, Ukraine—Ukrainians of all generations know what it's like to have a war in their homeland. 
In World
War II, Ukraine was the deadliest battlefield of the deadliest war in human
history. And today, just 400 miles southeast of Ukraine's capital city of Kyiv,
Ukrainian soldiers remain hunkered down in trenches and improvised forts,
facing their sixth straight winter at war against Russian forces in the
country's embattled Donbas region.
Tragedy
struck Ukrainians again on the morning of Jan. 8, when a pair of Iranian
surface-to-air missiles shot down a Ukrainian airliner outside Tehran, killing
all 176 passengers and crew on board. The shoot-down happened only hours after
Iran had fired ballistic missiles at bases in Iraq housing U.S. troops.
"I'm
already used to military losses, but it's terrible when completely innocent
people die," said Anatolii Stepanov, a Ukrainian conflict journalist. "I am
truly sorry for these people who died on the plane."
Tehran
originally denied that its armed forces had shot down Ukraine International
Airlines Flight 752, claiming, instead, that a mechanical failure caused the
Boeing 737-800 to crash. 
Yet,
Ukrainian investigators on the ground in Iran immediately found telltale
evidence of a missile strike in the aircraft's wreckage. And data from U.S.
satellites indicated that two Iranian surface-to-air missiles had struck the
Ukrainian airliner.
With
evidence of a shoot-down swiftly mounting, Tehran finally came clean on Jan.
11. In an extraordinary public mea culpa, the Islamist regime's leaders
admitted that their forces had shot down the Ukrainian jet due to "human
error." 
The
Iranian operator of the Russian-made, Tor M-1 surface-to-air missile system
confused the Ukrainian airliner for a U.S. cruise missile, Iranian officials
said. Yet, Tehran's admission of guilt didn't come without an attempt to also
deflect some of the blame onto the U.S.
"Human error at time of crisis caused by US
adventurism led to disaster," Iranian Foreign Minister Javad Zarif
tweeted.
'Common Sense'
In
Ukraine, the United States was not widely seen as complicit in Iran's military
blunder in shooting down Flight 752. 
Rather,
many Ukrainian officials questioned why Tehran left Iranian airspace open to
civilian air traffic while the country's air defenses were on high alert for
retaliatory U.S. airstrikes or cruise missile attacks.
"Yes, I
feel angry toward Iran," said Iryna Vereshchuk, a Ukrainian member of
parliament. 
"After
the Iranian authorities delivered a missile strike against Americans in the
region, it would be just common sense to stop any passenger air traffic,"
Vereshchuk told The Daily Signal in an email. 
Iran has
long used its proxies across the Middle East to attack and harass American
personnel and interests, as well as those of U.S. allies. 
A recent,
tit-for-tat escalatory cycle came to a head on Jan. 3 when President Donald
Trump authorized a targeted drone airstrike on
Jan. 3 that killed Qassim Suleimani, commander since 1998 of Iran's Quds Force,
the unit of the Islamic Revolutionary Guard Corps that conducts military and
spy operations outside Iran.
In retaliation for Suleimani's death, on Jan. 8 Iran launched
some 15 ballistic missiles against U.S. targets in Iraq. Iran's air defenses
subsequently braced in anticipation of a U.S. counterpunch. All the while,
civilian air traffic continued to fly.
On social
media platforms, many Ukrainians criticized Tehran for effectively using
civilian airliners as a way to shield Iran's armed forces from American
airpower.
"It's
hard for me to believe that this was just a simple mistake by the Iranian
military," Stepanov told The Daily Signal. "I do not consider this an instance
of Ukraine getting caught in the crossfire. For almost six years Ukraine has
been in a state of unconventional war. And this is, perhaps, just another one
of its episodes."
Russia
maintains de facto military and political control over the two so-called
separatist territories in eastern Ukraine. Despite a February 2015 cease-fire,
fighting in the Donbas continues. Ukrainian combat casualties maintain a steady
rate of about one death every three days, which has persisted for years. 
"Again, we grieve for the dead. We are dealing
with yet another tragedy—we just cannot seem to stay away from world events,"
said Oleksandr Engel, a Ukrainian veteran, in reference to the downing of
Flight 752. 
"After
almost six years of war, another difficult and
crucial year awaits us," Engel said.
Disinformation
Iran's
admission of guilt three days after shooting down Flight 752 stands in stark
contrast with Moscow's ongoing denials that its armed forces were responsible
for the downing of Malaysia Airlines Flight 17 over Ukraine's eastern warzone
in July 2014.
A Dutch
investigative team concluded there was "no doubt" a Russian Buk surface-to-air
missile, operated by a Russian ground crew from within territory controlled at
the time by pro-Russian separatists, shot down the Malaysia Airlines Boeing 777
airliner, killing all 298 passengers and crew.
For its
part, Moscow continues to deny its responsibility for the MH17 disaster. 
Therefore,
despite the widespread anger and frustration toward Tehran for its tragic
blunder, many Ukrainians also expressed a sense of relief that Iran had at
least partially come clean.
"The one
thing that we definitely didn't want to happen is for this tragedy to become
the subject of yet another disinformation campaign," said Oleksandra
Tsekhanovska, a research officer at the Kyiv-based Hybrid Warfare Analytical
Group. 
"As for
now, I can only say that the most important thing for us is to establish all
the facts and get clear answers," Tsekhanovska said of the ongoing Flight 752
investigation.
"One can never get used to tragedies like this. Never," Vereshchuk, the Ukrainian member of parliament, told The Daily Signal. "But the families of those who were on board the plane deserve to know the truth, irrespective of the politics."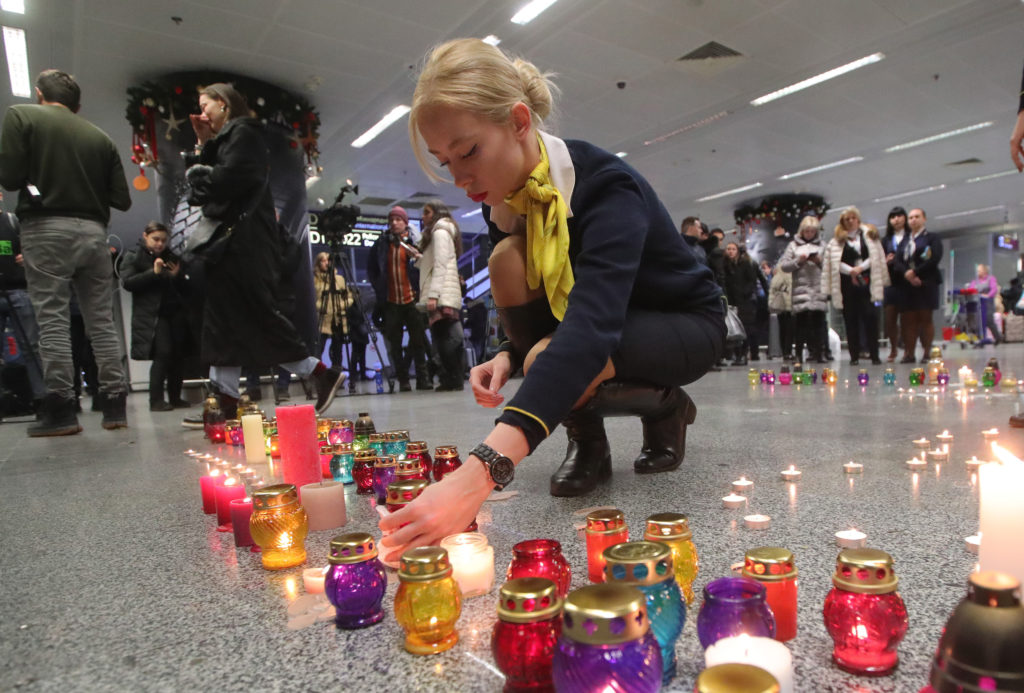 Iranian
personnel said they've recovered Flight 752's black boxes—the devices used to
record an aircraft's voice and flight data, which are often a key piece of
evidence used by accident investigators to determine the cause of an aviation
mishap.
However,
as of this article's publication, Ukrainian officials were still calling on
Iran to hand over Flight 752's black boxes for an independent
investigation. 
"I am
genuinely offended by the reluctance of the Iranian authorities to immediately
give us the plane's black boxes," said Stepanov. "It seems to me humiliating
for my country."
"The coming days and weeks will show how willing the Iranian
authorities are to support the type of investigation expected by the grieving
nations," wrote Michael Bociurkiw, a global affairs analyst, in a Thursday op-ed
for The Globe and Mail.
"It will also show whether a regime known more for brutality
than compassion can provide a sense of dignity for the innocent men, women and
children senselessly killed in the crash," added Bociurkiw, who was a
Canadian member of the international team of observers that investigated the
MH17 crash site in 2014.
With the
memory of MH17 in mind, some Ukrainian officials have also questioned why
Ukraine International Airlines—the nation's flag carrier—allowed its jets to
keep flying within Iranian airspace just hours after Iran fired its missiles at
U.S. forces in Iraq.
Shutting
down Ukrainian flights over Iran "would have allowed us to prevent this
tragedy," said Andrii Ryzhenko, the Ukrainian navy's deputy chief of staff for
Euro-Atlantic integration.
"We have
experience from MH17… Ukrainian state authorities shouldn't have allowed any
flights in [Iranian airspace]," Ryzhenko told The Daily Signal. "Logic and a
realistic sense of danger must always be a full concern for the security of our
people. In this case it was probably not a priority factor. A very sad
tragedy."
Ukraine
International Airlines officials defended their decision to let Flight 752 go
ahead, saying that its personnel received no advanced warning from Iran about
an increased surface-to-air missile threat.
"If you
play at war, you play as much as you want, but there are normal people around
who you had to protect," Ukraine International Airlines Vice President Ihor
Sosnovsky told reporters in Kyiv.
"If they
are shooting from somewhere to somewhere, they were obliged to close the
airport. Obliged. And then shoot as much as you want," Sosnovsky said of Iran's
air defenses on the morning of Jan. 8.
The
Ukrainian airline has since announced that it's suspending all flights to
Tehran "until further notice." The Ukrainian Aviation Administration also
banned all flights in Iranian airspace.
The U.S. Federal Aviation Administration issued a prohibition
on Jan. 8, banning U.S. aircraft from operating in Iraq, Iran, the Persian
Gulf, and the Gulf of Oman, citing "heightened military activities and
increased political tensions in the Middle East, which present an inadvertent
risk to U.S. civil aviation operations due to the potential for miscalculation
or misidentification."
However, experts say most U.S. carriers already avoided the
region prior to Jan. 8.
Justice
The
Iranian ground crew operating the Russian-made, Tor surface-to-air missiles,
which U.S. intelligence suggests brought down the Ukrainian airliner, should
have been able to tell from their radar data that they were looking at a
civilian aircraft, experts say.
A Boeing 737 on departure, like the Ukrainian flight, would be flying at an airspeed of about 250 knots, and a rate of climb of about 2,500 feet per minute. For a well-trained Tor surface-to-air missile operator, a plane flying like that would clearly not be an American warplane or cruise missile.
Therefore,
if Iran's account is to be believed, then the Iranian ground crew demonstrated
"extraordinary incompetence," said Oleksiy Melnyk, a former Soviet Air Force
fighter pilot and Ukrainian air force commander who is now co-director of Foreign Relations and International
Security Programs at the Razumkov Center, a Ukrainian think-tank.
"Even an inexperienced ground crew should have easily been
able to tell from their radar data that they were looking at a civilian
airliner," Melnyk told The Daily Signal. "It's really hard to understand how
this happened."
Iran's
version of events took another hit on Tuesday when The New York Times verified
a new video showing that two Iranian missiles struck the Ukrainian jet some 30
seconds apart.
The time
interval between the two missiles casts further doubt over Iran's claim that
the shoot-down of Flight 752 was a single, accidental mistake by an Iranian
ground crew member who had only seconds to differentiate the Boeing 737-800
from a U.S. cruise missile.
"We hope
that we'll be able to bring to criminal accountability the perpetrators of this
crime. And we are not just talking about some poor soldier who pushed the
button," Ukrainian Minister of Foreign Affairs Vadym Prystaiko told CNN.
"We made
it clear when [Ukrainian] President [Volodymyr] Zelenskyy talked to [Iranian
President Hassan] Rouhani that we want to know who gave the order, the whole
link. We have to find out who is responsible for the deaths of our
people," Prystaiko said.
On Wednesday, Kyiv announced that it would give a
compensation payment of $8,319 to each family of the 11 Ukrainians who died on
Flight 752. Ukrainian officials also demanded that Tehran compensate the
victims' families.
"No
compensation will dull the pain of this tragedy, but we stand for
justice," Ukrainian Prime Minister Oleksiy Honcharuk said on
Wednesday. 
According to a Ukraine International Airlines manifest, 63
Canadians were aboard Flight 752. The flight also carried passengers from Iran,
Ukraine, Sweden, Afghanistan, Germany, and the United Kingdom. No U.S. citizens
were listed on board.
On Thursday, representatives of countries that lost citizens
on Flight 752 met at the Canada House in London to begin drafting a plan to
demand compensation from Iran for the victims' families.
"We are judging Iran every day. Iran has a choice, and the world
is watching. They can take a path and allow us to get to the bottom of things,"
Canadian Foreign Affairs Minister François-Philippe Champagne said at
Thursday's meeting in London.
Source material can be found at this site.