House prosecutors claimed Wednesday that President Donald Trump is trying to "cheat" to win the 2020 election, as opening arguments from each side commenced in the Senate impeachment trial of the president. 
The seven House Democrats who are impeachment managers, acting as prosecutors, made their case against Trump. They include House Intelligence Chairman Adam Schiff of California and House Judiciary Chairman Jerry Nadler of New York.
Presenting the other side was the president's legal defense team, which includes White House counsel Pat Cipollone; Trump's personal lawyer, Jay Sekulow; and former independent counsel Ken Starr.
Under rules approved late Tuesday, each side has a total of 24 hours of speaking time on the Senate floor to make their case, a time allotment that may be spread over three days. 
After each side presents its case, the Senate will vote on whether to call witnesses to testify. The rules are similar to those used in the 1999 impeachment trial of President Bill Clinton, who was acquitted. 
It takes a two-thirds vote, or 67 senators, to remove a president from office.  
For now, the seven House impeachment managers have up to 24 hours over three days to persuade senators to convict Trump and remove him from office. 
Schiff opened the proceedings with a presentation lasting more than two hours. He used video and text messages to support his case, including 2016 campaign footage and clips from sworn witnesses at the House impeachment hearings in November. 
Here are five dramatic scenes from the second full day of the Senate impeachment trial, which began shortly after 1 p.m. and continued into the night. 
1. 'Cannot Be Decided at the Ballot Box'

A July 25 phone conversation between Trump and Ukrainian President Volodymyr Zelenskyy led to the Democrat-controlled House's voting, without support from a single Republican, to impeach Trump for abuse of power and obstruction of Congress. 
During their call,  Trump and Zelenskyy referred to Hunter Biden's highly paid role on the board of Ukrainian energy company Burisma at a time when his father, then-Vice President Joe Biden, was the Obama administration's point man on Ukraine policy. 
According to a White House transcript of the call released by the president, Trump asked Zelenskyy "to look into" Joe Biden's admission that he forced the firing of a Ukrainian state prosecutor who was investigating Burisma.
Schiff told the Senate, sitting as a jury, that impeachment and removal of Trump is not about a policy disagreement. 
"We are here today to consider a much more grave matter, and that is the attempt to use the power of the presidency to cheat in an election," Schiff said. 
Ahead of a presidential election in November, when Trump seeks a second term, Schiff rejected the notion that the matter should be left to voters. 
"The president's misconduct cannot be decided at the ballot box," Schiff said, adding:
For we cannot be assured that the vote will be fairly won. In corruptly using his office to gain a political advantage and abusing that office in such a way to jeopardize that national security and the integrity of our elections, in obstructing the investigation into his own wrongdoing, the president has shown he believes that he is above the law and scornful of constraint.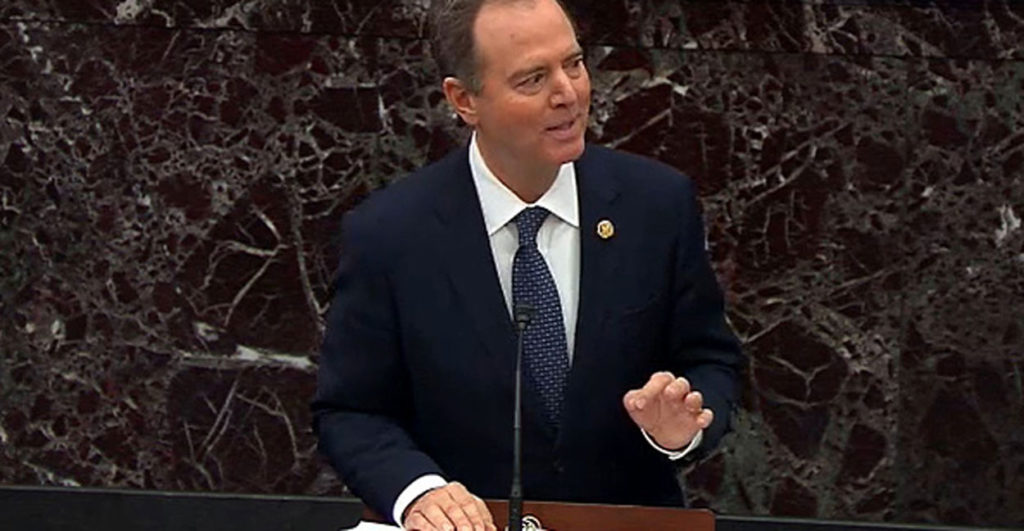 2. Resurrecting the Russia Narrative

Although one impeachment article alleges Trump was soliciting Ukraine to meddle in the 2020 election, the House impeachment managers brought up Russia again.
This comes despite the conclusion by special counsel Robert Mueller's team that neither Trump nor his campaign conspired with Russian government operatives to influence the 2016 election. 
Before Schiff became chairman when Democrats reclaimed the House majority in the 2018 elections, the House Intelligence Committee reached a similar conclusion prior to release of the Mueller report. 
Nevertheless, Schiff wasn't ready to let the subject of Russia go. 
"This is not the first time the president solicited foreign interference in our elections," Schiff said. "In 2016, then-candidate Trump implored Russia to hack his opponent's email account–something the Russian military did only hours later. Only hours later. 
"When the president said, 'Hey Russia, if you're listening,' they were listening. Only hours later, they hacked his opponent's campaign."
In 2016, Trump's Democratic rival for the presidency, former Secretary of State Hillary Clinton, was under FBI investigation for conducting State Department business over an unsecure private email server. 
Weeks after then-FBI Director James Comney announced that he wouldn't recommend prosecution of Clinton, despite thousands of "missing" emails, Trump talked about the issue on the campaign trail. 
This also came after news that Russia was believed to have hacked the Democratic National Committee. 
"If it is Russia, it's really bad for a different reason," Trump said
 at a rally on July 27, 2016. "Because it shows how little respect they have for our country when they would hack into a major party and get everything."
"But it would be interesting to see–I will tell you this, Russia, if you're listening, I hope you're able to find the 30,000 e-mails that are missing," Trump said. "I think you will probably be rewarded mightily by our press. Let's see if that happens. That will be next."
Later in the House impeachment managers' arguments in the Senate, a video clip showed a Trump interview with ABC News after the Mueller investigation concluded, in which Trump was asked if he would report to the FBI if Russia or China offered him negative information on his opponent, or would take the information. 
"I think maybe you do both," Trump told the network in June. "I think you might want to listen; there isn't anything wrong with listening. If somebody called from a country, Norway, [and said] 'We have information on your opponent'–oh, I think I'd want to hear it."
Arguing on the Senate floor, Rep. Sylvia Garcia, D-Texas, proclaimed of the clip: "Shocking video."
3. Trump's Real-Time Response

Trump apparently weighed in on Schiff's arguments from the economic conference he was attending in Davos, Switzerland. He took the time for a short tweet, in all capital letters: "NO PRESSURE."
The president was making the point that he did not pressure Zelenskyy to conduct investigations of the Bidens and possible Ukrainian meddling in the 2016 election in order to get $391 million in congressional approved military aid. 
Zelenskyy also has said repeatedly that there was no pressure from Trump. 
4. Citing an Actual Statute

Trump defenders and independent legal analysts frequently note that after House Democrats failed in their effort to show Trump had engaged in bribery or extortion, they had to rely on vague charges of abuse of power and obstruction of Congress–neither of which are crimes in federal statutes. 
However, Schiff pointed to a Government Accountability Office opinion last week that said Trump violated a law called the  Impoundment Control Act in delaying the congressionally approved assistance to Ukraine. 
The California Democrat said the president's lawyers "pooh-poohed" the GAO's finding. 
"They are a nonpartisan organization that both parties have come to rely upon, but I'm not surprised they don't like the conclusion of the GAO because the Defense Department warned them that this was going to be the conclusion," Schiff said. "And that conclusion was that a hold on aid was not only wrong, it was not only immoral, it was also illegal."
The GAO provided a legal opinion, not a legally adjudicated decision, and the White House Office of Management and Budget disputed the finding.  
The 1974 Impoundment Control Act provides the executive branch only narrow and limited discretion in spending money appropriated by Congress and signed into law by the president in the budget process. 
"It violated the law, a law that we passed, so that presidents could not refuse to spend money that we allocated for the defense of others and for ourselves," Schiff said. 
The GAO and a federal court determined that President Barack Obama violated certain laws regarding congressionally approved expenditures, The Wall Street Journal noted. 
5. Defending the Bidens

Senate Democrats spent most of Tuesday asserting that they were committed to having witnesses testify in the Senate trial. However, before the trial began Wednesday afternoon, Senate Minority Leader Charles Schumer, D-N.Y., threw that desire into question.
During a press conference, Schumer was asked about a possible deal to have testimony from Trump's former national security adviser, John Bolton, in exchange for testimony from Hunter Biden about his lucrative board position with Burisma Holdings, the Ukrainian energy company, while his father was vice president and Obama's point man on Ukraine policy.
"That trade is not on the table," Schumer told reporters. "This isn't like some fantasy football trade. Trials aren't trades for witnesses."
Viktor Shokin, then Ukraine's prosecutor general, was investigating Burisma in 2016, when Biden visited the country.
Biden boasted on camera at a 2018 event that he had threatened to withhold $1 billion in U.S. loan guarantees to Ukraine unless the government fired Shokin. He was fired. 
Biden defenders say his threat had nothing to do with the Burisma probe.
Nadler delivered a strong defense of the former vice president on the Senate floor.
"It is true that Vice President Biden helped remove Mr. Shokin, who was widely believed to be corrupt," Nadler said, adding:
It was official policy of the United States, the European community and others–in order to fight corruption in Ukraine–to ask that Shokin and [former Ukraine prosecutor Yuriiy] Lutsenko be removed. So Vice President Biden, in fulfilling U.S. policy, pressured Ukraine to remove Shokin, not to secure some personal benefit, but to advance the official policy of the United States and its allies.
Nadler invoked the Watergate scandal that enveloped President Richard Nixon as he talked about Trump personal lawyer Rudy Giuliani, the former New York mayor, who pursued the president's interest in investigations in Ukraine. 
"Who benefited from this scheme? Who sent Mr. Giuliani to Ukraine in the first place?" Nadler said. 
"Of course, we could rephrase that question, as the former Republican leader of the Senate, Howard Baker, asked it in 1973: What did the president know and when did he know it?"
Ken McIntyre contributed to this report.
Source material can be found at this site.