An American biotech company says it created a coronavirus vaccine three hours after getting access to the virus' genetic sequence on Jan. 9, and now scientists are racing to get the vaccine on the market in record time.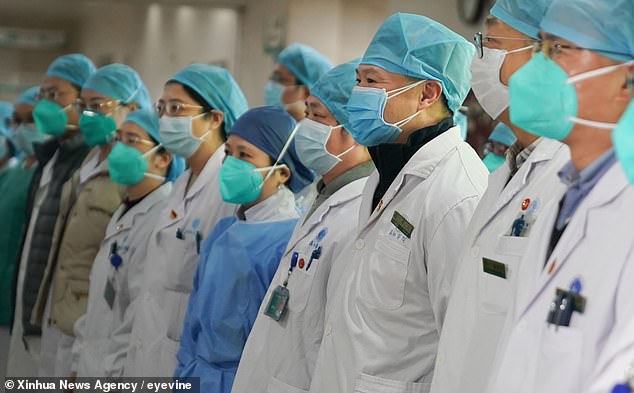 Inovio Pharmaceuticals is based in Pennsylvania, but scientists in its laboratory in San Diego made the discovery.
"We have an algorithm which we designed, and we put the DNA sequence into our algorithm and came up with the vaccine in that short amount of time," Inovio's research and development director Dr. Trevor Smith told KVUE.
China has reported 254 new daily deaths and a spike in new daily virus cases of 15,152, after new methodology was applied in the hardest-hit province of Hubei as to how cases are categorized.
Inovio's vaccine for COVID-19, as health officials have named the virus, could be ready as early as this summer. Inovio's stock jumped to $5.32 a share a few days after the company announced it was selected to work on a coronavirus vaccine. Shares are now at $3.34, back to where they were a month ago.
The American company is partnering with Beijing Advaccine, a Chinese company, to work on the vaccine.
"Inovio's participation in this developing effort is based on the ideal suitability of its DNA medicine platform to rapidly develop vaccines against emerging viruses with pandemic potential, proven vaccine development capabilities, and a strong track record of rapidly generating promising countermeasures against previous pandemic threats," the company said in a statement on Jan. 30. "Inovio was the first to advance its vaccine (INO-4700) against MERS-CoV, a related coronavirus, into evaluation in humans."
Another U.S. company, Maryland-based Novavax, is aiming to make a coronavirus vaccine in as little as three months, although such vaccines can take years to develop. The company made an Ebola vaccine in 90 days.
White House trade adviser Peter Navarro offered some hope Friday night.
Navarro told FOX Business' Lou Dobbs on his eponymous primetime show that the White House is pushing ahead and "moving at Trump time" on a treatment drug and are hopeful testing and production could begin "as early as the end of the month, mid-March."
It is a promising development as headlines are dominated by stories such as the death toll from the coronavirus in mainland China — which as of Friday night stood at 1,523. China's National Health Commission says the total number of confirmed cases in the country stands at more than 66,400 people.
Navarro said five large American companies are hard at work, trying to get 150 million doses of a vaccine ready "hopefully as early as next November," but stressed, "it's going to require great effort on research and development.
One drug, produced by pharmaceutical giant Gilead, called remdesivir, Navarro said "looks promising, and the thing that we need absolutely to do is get that into rapid clinical trials."
| Ticker | Security | Last | Change | Change % |
| --- | --- | --- | --- | --- |
| GILD | GILEAD SCIENCES INC. | 67.56 | +0.76 | +1.14% |
Despite the crisis emanating from China, Navarro said the Chinese have not been cooperative in expediating that process.
"What we're doing is we're going down a different avenue to get that done," Navarro said. "If we can get that done, we can ramp the production up and have that to treat people."
Navarro reminded everyone that, in order to get that vaccine out, the administration has to get the FDA and EPA involved.