YouTube has removed Nation of Islam leader Louis Farrakhan's 4th Of July address from its platform following pressure from HonestReporting. During the nearly three-hour speech, Farrakhan unleashed a litany of antisemitic remarks.  Among the attacks, Farrakhan said that Jews are responsible for supplanting Torah with the Talmud: "They made that word in their minds and in their believers' minds greater than God's word." Farrakhan also referred to the head of the Anti-Defamation League as "Satan."
YouTube has removed Min. Farrakhan's July 4th speech, saying it violates their policy on hate speech. Farrakhan leads a religious group founded in Detroit, the Nation of Islam. https://t.co/VSl0I1O3sS pic.twitter.com/lmYYa2CeSx

— Niraj Warikoo (@nwarikoo) July 9, 2020
On July 6th, HonestReporting called on people to take action and pressure YouTube. We specified the steps needed to be taken to ensure that Farrakhan's hate mongering, and its growing appeal among celebrities, is stopped in its tracks.
But while this battle was won, the war against online antisemitism continues. Indeed, a petition directed at HonestReporting appeared after YouTube pulled Farrakhan's speech, with the aim of reinstating Farrakhan's video on YouTube.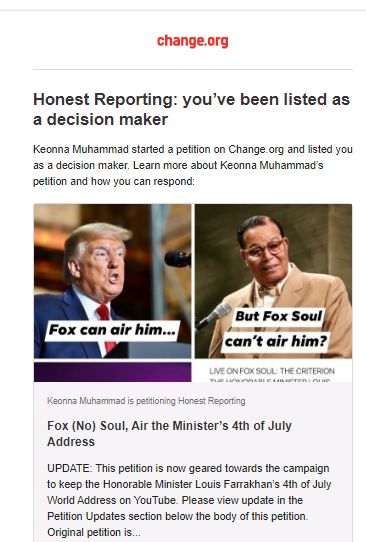 This petition shows that it's not enough to influence policy one time alone. If this petition gains enough traction, the Farrakhan address could possibly be rebroadcast, either on YouTube or another platform.
YouTube should be commended for deleting the video. But why did it take so long to act? After all, YouTube's policy officially prohibits content that promotes or condones violence or incites hatred against individuals or groups based on core characteristics such as ethnicity, gender and sexual identity, and religion. And by the time the Farrakhan speech was removed, it had in excess of 900,000 viewers after the address was promoted by rap artist Sean Combs to his 35 million Twitter followers.
Let the eye of vigilance never be closed"
-Thomas Jefferson
Source material can be found at this site.