We are hearing more and more news of people testing positive for the Coornavirus.  Plus the testing has been made more available, many say there are some problems in really getting a handle on how much COVID is in our community.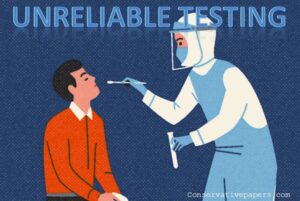 It has nothing to do with being able to get tested, but instead the results. The quickest turnaround is about 48 hours, and the majority of the time, it can take about a week of finding out if you're infected our not. However, the most recent issue is getting back results that aren't even yours.
I got a call asking for me, and they told me that I had tested positive. I was like, 'Positive for what?" Then, the lady said for COVID, and I said, 'That's impossible. I never got tested, Ma'am,'" Mindy Clark said.
Clark had gone to the drive thru testing sight at Manatee Rural Health, but before she was able to get swabbed, she left the line because she realized it was for people with symptoms only.
"I told them they needed to take this off my record, and they said I had to prove it to them that I wasn't positive," Clark continued.
She tested negative just two days later, and also tested negative for the antibodies. Plus, according to many of our viewers, this hasn't only happened to her.
Clark says if she and many others have been incorrectly identified as positive in the state's system so easily, how accurate are the numbers that are released daily?
A Nashville man also told his local news station last week that he received at least three calls from the state about apparently testing positive for the novel coronavirus.
The problem? He was also never tested.
According to News4 Investigates, Brock Ballou, a resident of the Nashville suburb of Mount Juliet, said he was anticipating a call from a contact tracer after one of his coworkers tested positive for COVID-19. However, the tracer repeatedly told Mr. Ballou that he was positive for the virus, despite the fact that he was never tested, he says.
"She specifically said – I'm looking at it right here – you tested positive – this is a follow up call to see how your symptoms are," Ballou told the news station.
Asked if he possibly misheard the woman on the phone, Ballou said she reiterated his supposedly positive test results multiple times.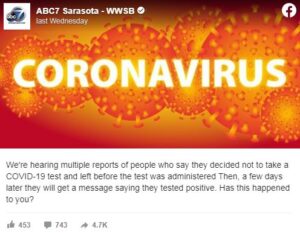 News4 Investigates said all three phone numbers used to reach out to Ballou have been confirmed by the news station to have come from workers with the state health department of Tennessee.
The apparent discrepancy has Ballou questioning the accuracy of the state's COVID-19 case counts.
As noted by The Daily Wire last week, the Florida State Health Department confirmed that some testing laboratories in the state have not been disclosing their negative novel coronavirus testing results accurately, skewing the positivity rates dramatically. At least two labs were discovered to have inflated their positivity rates of the virus by a factor of ten.
"Countless labs have reported a 100 percent positivity rate, which means every single person tested was positive. Other labs had very high positivity rates," FOX 35 explained Tuesday.
It was uncovered that Orlando Veteran's Medical Center's reported positivity rate of 76% was actually around 6%, a spokesperson for the center revealed. FOX 35 added, "Orlando Health's positivity rate is only 9.4 percent, not 98 percent as in the report."
There have been other reports nationwide of testing errors. For example, the Connecticut Department of Public Health said Monday that the state laboratory found mistakes in the testing system that led to 90 false positives.
Over the weekend, Vermont officials said at least 30 patients also received false positive results.
If you've received a test result, but were never actually tested for COVID-19, be sure to call your local Department of Health and get it sorted out. Making sure those results are removed from your health record and the COVID-19 database.