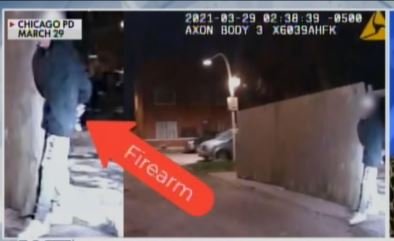 On Thursday night Chicago police released extremely graphic bodycam footage of a police officer shooting a 13-year-old gang-banger.
An unidentified police officer fatally shot 13-year-old Adam Toledo on March 29.  Chicago officials only released the video on Thursday night.
Advertisement – story continues below
Chicago Police Release Bodycam Footage of Police Shooting Death of 13-Year-Old (GRAPHIC VIDEO)
Following the shooting, the Chicago Latin Kings threatened to retaliate against the Chicago police.
TRENDING: "Here's How it Works, Dr. Fauci, I Get to Ask You the Questions!" – Rep. Jim Jordan Puts Arrogant Fauci in His Place (VIDEO)
This woman agrees and tweeted about it.

Will Twitter ban C-Ro?
Advertisement – story continues below
The Latin Kings made the threats two weeks ago too.
Chicago police leaders warned their cops that factions of the Latin Kings planned to retaliate following the fatal police shooting of a 13-year-old. Gang members were instructed to "shoot at unmarked Chicago police vehicles," CPD warned. https://t.co/8va2IwLE9N

— Chicago Sun-Times (@Suntimes) April 3, 2021
Latin Kings already vowing to retaliate against CPD for the killing. Bruh this why I can't ever go back, the average shooter is a 15 yr old gangbanger and neutrons always getting caught in the crossfire. All the OGs are in Cook County, this shit is for the birds. https://t.co/M459JwSjOq

— TØM C?T (@TomtheBasedCat) April 8, 2021
Source material can be found at this site.