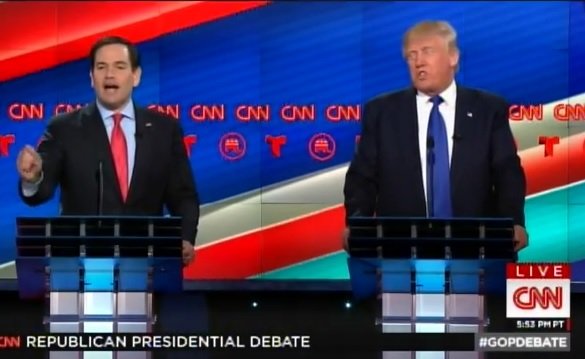 Three-peat!
Senator Marco Rubio joined Greg Kelly on Newsmax TV for his first interview with the wildly popular Newsmax host.
During the exchange, Senator Rubio was asked about his relationship with President Trump and what he expects to see in the 2024 primary race.
Advertisement – story continues below
Rubio told Greg Kelly he sees no one who can beat President Trump in the 2024 primary.
WBAP reported:
TRENDING: "You Son of a Bitch! YOU PUNK!" – Geraldo LOSES IT ON LIVE TV after Dan Bongino Lays Him Out on Hannity! (VIDEO)
Despite a "competitive," if not contentious, 2016 GOP primary battle against former President Donald Trump, Sen. Marco Rubio, R-Fla., not only has Trump's endorsement but they share a mutual respect.

If fact, Rubio will not even challenge Trump, who he called "the most popular and most influential Republican in America."

Advertisement – story continues below

"I think he'll still be that in '22 and '24, and if decides to run for the president and the nomination, he's going to be the party's nominee," Rubio told Newsmax TV's "Greg Kelly Reports" on Wednesday. "That's the way I see it.

"He hasn't made that decision. It's still a long way down the road, but if Donald Trump decides to run in 2024 again, he's going to be the Republican nominee, and I think almost everyone that I've talked to would agree with that."
Source material can be found at this site.