President Trump UNLOADED on the sleezebags in the US intelligence community under Barack Obama including the "two lovers" and other "such lowlifes" in an epic statement released on Thursday night before Joe Biden's meeting with Vlad Putin on Friday.
As you may recall, back in 2018 Dirty Rod Rosenstein and dementia patient Robert Mueller indicted 12 Russian suspects on the eve of President Trump's meeting with Vladimir Putin.
Dirty Rod Rosenstein did this in the Deep State's continual harassment of President Trump in their ongoing attempted coup of the people's president.
Advertisement – story continues below
Not a single Russian faced justice and the story was mostly made up in an attempt to ruin President Trump's trip abroad. The American fake news media and Democrats were overjoyed to play a part in this attack on President Trump.
Trump also urged Sleepy Joe to try and stay awake during the meeting.
TRENDING: BREAKING: FREIGHT TRAIN OF STATE DELEGATIONS COMING FRIDAY — 9 States Will Visit AZ Audit Center – ONLY ONE PALLET LEFT TO COUNT
This was epic Trump.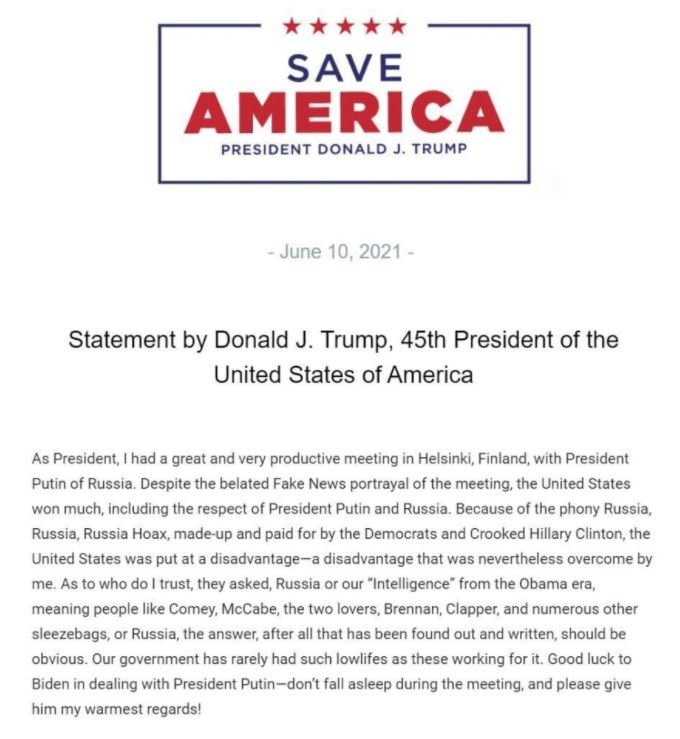 Source material can be found at this site.