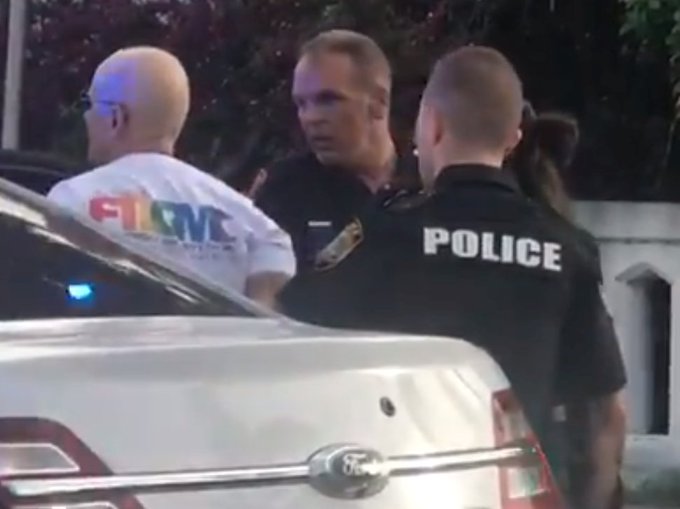 A driver in Fort Lauderdale rammed his white truck into a crowd of revelers on Saturday night.
The driver was wearing a Gay Chorus T-shirt when he was arrested.
The Gay Chorus director later told police the driver was "part of the chorus family."
Advertisement – story continues below
The driver of a truck that apparently deliberately ran into a gay pride parade and killed someone near Ft Lauderdale was taken into custody wearing this rainbow colored acronym logo…anyone know what it stands for? pic.twitter.com/TqkBD0BXK1

— Lil' Mike SF (@lilmikesf) June 20, 2021
TRENDING: IT WAS A VOTER FRAUD FACTORY: 2nd Carter Jones Report Describes Complete Breakdown of GA Election Systems — BALLOTS EVERYWHERE, NO CHAIN OF CUSTODY, COMPLETE DISARRAY and WE HAVE THE VIDEO
The man who plowed into the gay pride parade in Fort Lauderdale was a member of the gay men's chorus and according to Local 10 — it was a tragic accident. The mayor called it a terrorist attack https://t.co/5Eo0UGjRUf

— toddstarnes (@toddstarnes) June 20, 2021
Advertisement – story continues below
Local 10 News reported:
One man was killed and another injured when they were run over by a pickup truck as the Stonewall Pride Parade in Wilton Manors was just getting started Saturday night.

The white pickup truck was lined up with other floats when it accelerated and ran over two men standing by to take part in the parade around 7 p.m. on Wilton Drive near 16th Street, as Local 10 News reporter Christian De La Rosa witnessed.

Police took the man who was driving the truck into custody and were questioning him. He was wearing a Fort Lauderdale Gay Men's Chorus t-shirt.

Justin Knight, the chorus' president, said through a spokesman that chorus members were the ones injured and that the driver was "part of the Chorus family."

Advertisement – story continues below

"Our thoughts and prayers are with those affected by the tragic accident that occurred when the Stonewall Pride Parade was just getting started," Knight said in a statement. "Our fellow Chorus members were those injured and the driver was also a part of the Chorus family. To my knowledge, this was not an attack on the LGBTQ community. We anticipate more details to follow and ask for the community's love and support."
Source material can be found at this site.