WARNING: **Facebook and Twitter will suspend your account if you repost this story.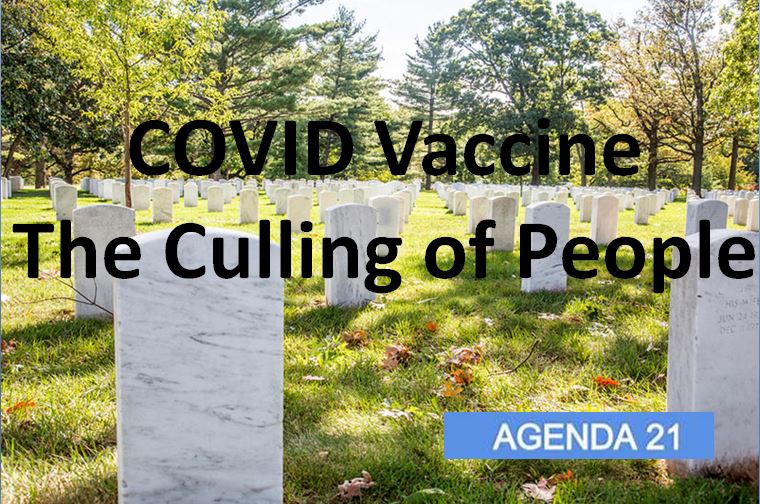 VAERS data released Friday by the CDC showed a total of 623,343 reports of adverse events from all age groups following COVID vaccines, including 13,627 deaths and 84,466 serious injuries between Dec. 14, 2020 and Aug. 20, 2021.
Data released today by the Centers for Disease Control and Prevention (CDC) showed that between Dec. 14, 2020 and Aug. 20, 2021, a total of 623,343 total adverse events were reported to VAERS, including 13,627 deaths — an increase of 559 over the data released last week.
There were 84,466 reports of serious injuries, including deaths, during the same time period — up 3,416 compared with the previous week.
Excluding "foreign reports" filed in VAERS, 488,318 adverse events, including 6,128 deaths and 38,765 serious injuries, were reported in the U.S. between Dec. 14, 2020 and Aug. 20, 2021.between Dec. 14, 2020 and Aug. 20, 2021.
Of the 6,128 U.S. deaths reported as of Aug. 20, 13% occurred within 24 hours of vaccination, 18% occurred within 48 hours of vaccination and 32% occurred in people who experienced an onset of symptoms within 48 hours of being vaccinated.
In the U.S., 360.3 million COVID vaccine doses had been administered as of Aug. 20. This includes: 203 million doses of Pfizer, 143 million doses of Moderna and 14 million doses of the Johnson & Johnson (J&J).
This week's U.S. data for 12- to 17-year-olds show:
The most recent reported deaths include a 15-year-old boy (VAERS I.D. 1498080) who previously had COVID, was diagnosed with cardiomyopathy in May 2021 and died four days after receiving his second dose of Pfizer's vaccine on June 18, when he collapsed on the soccer field and went into ventricular tachycardia; and a 13-year-old girl (VAERS I.D. 1505250) who died after suffering a heart condition after receiving her first dose of Pfizer.
This week's total U.S. VAERS data, from Dec. 14, 2020 to Aug. 20, 2021, for all age groups combined, show:
21% of deaths were related to cardiac disorders.
54% of those who died were male, 43% were female and the remaining death reports did not include gender of the deceased.
The average age of death was 73.1.
As of Aug 20., 3,190 pregnant women reported adverse events related to COVID vaccines, including 982 reports of miscarriage or premature birth.
Of the 2,640 cases of Bell's Palsy reported, 50% were attributed to Pfizer vaccinations, 43% to Moderna and 7% to J&J.
530 reports of Guillain-Barré Syndrome, with 39% of cases attributed to Pfizer, 34% to Moderna and 26% to J&J.
132,694 reports of anaphylaxis with 43% of cases attributed to Pfizer's vaccine, 49% to Moderna and 8% to J&J.
8,528 reports of blood clotting disorders. Of those, 3,633 reports were attributed to Pfizer, 3,101 reports to Moderna and 1,746 reports to J&J.
2,162 cases of myocarditis and pericarditis with 1,364 cases attributed to Pfizer, 714 cases to Moderna and 78 cases to J&J's COVID vaccine.
BBC radio host died of COVID vaccine complications, coroner confirms
An award-winning BBC radio host died as a result of complications from her first dose of AstraZeneca's COVID vaccine, coroner Karen Dilks concluded.
Lisa Shaw, 44, received her first dose of AstraZeneca on April 29. On May 13, she was taken by ambulance to University Hospital of North Durham after having a headache for several days. She was transferred to the Royal Victoria Infirmary in Newcastle, where she received a number of treatments, which included cutting away part of her skull to relieve the pressure on her brain. She died May 21.
According to the BBC, Tuomo Polvikoski, a pathologist, told the coroner Shaw was fit and healthy before receiving the vaccine. When asked about the underlying cause of the fatal clotting on her brain, Polvikoski said the clinical evidence "strongly supports the idea that it was, indeed, vaccine-induced."
FDA grants full approval of Pfizer vaccine, critics blast agency for lack of data, scientific debate.
New side-effects of mRNA Experimental COVID-19 shots
Three new conditions reported by a number of people after vaccination with COVID-19 shots from Pfizer and Moderna are being studied to assess if they may be possible side-effects, Europe's drugs regulator said on Wednesday.
Erythema multiforme, a form of allergic skin reaction; glomerulonephritis or kidney inflammation; and nephrotic syndrome, a renal disorder characterised by heavy urinary protein losses, are being studied by the safety committee of the European Medicines Agency (EMA), according to the regulator.
COVID-19 vaccine is associated with an increased risk of myocarditis, an inflammation of the heart muscle, a large new study from Israel confirms. But the side effect remains rare, and COVID-19 is more likely to cause myocarditis than the vaccine is, scientists reported on Wednesday.
The research, which is based on the electronic health records of about 2 million people who are 16 or older, provides a comprehensive look at the real-world incidence of various adverse events after both vaccination and infection with the coronavirus.
In addition to myocarditis, the Pfizer vaccine was also associated with an increased risk of swollen lymph nodes, appendicitis and shingles.
FDA grants approval for emergency use of Pfizer vaccine, critics blast agency for lack of data, scientific debate
The U.S. Food and Drug Administration (FDA) Aug. 23 granted a limited approval to Pfizer's new and experimental "Comirnaty" COVID "vaccine" for people 16 years and older — without allowing public discussion or holding a formal advisory committee meeting to discuss data.
This is the first COVID vaccine approved by the FDA, and is expected to open the door to more Draconian vaccine mandates by employers and universities.
According to The Washington Post, Pfizer's vaccine approval was the fastest in the agency's history, coming less than four months after Pfizer/BioNTech filed for licensing on May 7.
According to an article published Aug. 20 in the BMJ, transparency advocates criticized the FDA decision not to hold a formal advisory committee meeting to discuss Pfizer's application for full approval, normally an important mechanism used to scrutinize data, although ignored and bypassed this time around.
Last year the FDA said it was "committed to use an advisory committee composed of independent experts to ensure deliberations about authorisation or licensure are transparent for the public."
But in a statement to The BMJ, the FDA said it did not believe a meeting was necessary ahead of the expected full FDA approval.