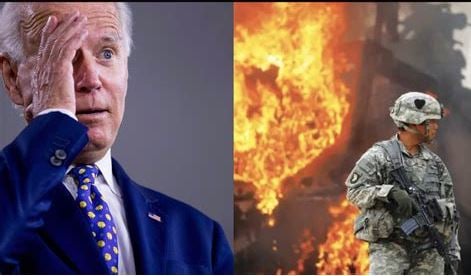 Joe Biden on Tuesday said his botched withdrawal which resulted in the deaths of 13 US service members and hundreds, if not thousands of stranded Americans was an "extraordinary success."
However, text messages between US military commanders and private citizens paint a different picture.
Advertisement – story continues below
"We are fucking abandoning American citizens," said an Army colonel assigned to the 82nd Airborne Division in secret text messages leaked to Just the News:
The text messages and emails were provided to Just the News by Michael Yon, a former Special Forces soldier and war correspondent who was among the private citizens working with private networks and the military to rescue stranded Americans.

TRENDING: REPORT: DoD had Foreknowledge of Kabul Airport Bomber – Denied Permission to Fire Predator Drone that had Lock on Him – 13 US Heroes Dead

Yon told Just the News that a group of Americans were abandoned at the Kabul airport, pleading for help as military officials told them they were finished with evacuations.

"We had them out there waving their passport screaming, 'I'm American,'" Yon said Tuesday while appearing on the John Solomon Reports podcast. -Just The News

Advertisement – story continues below

"People were turned away from the gate by our own Army," Yon said.

"You guys left American citizens at the gate of the Kabul airport," Yon wrote Tuesday to the commander. "Three empty jets paid for by volunteers were waiting for them. You and I talked on the phone. I told you where they were. Gave you their passport images. And my email and phone number. And you left them behind."

He added: "Great job saving yourselves. Probably get a lot of medals."
Listen to John Solomon's podcast interview with Michael Yon here:
Advertisement – story continues below
Source material can be found at this site.