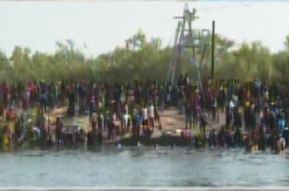 Congratulations!
Joe Biden managed to open the US borders to 1.7 illegal migrants this year during the worst pandemic in 100 years.  IT was quite an accomplishment that took lots of effort.
Don't be fooled, the regime is serious about that pandemic.
Advertisement – story continues below
This was a remarkable feat for the Democrat leader considering President Trump had brought illegal border crossings down to a trickle of what it was before him.
Joe Biden managed to do this by ending the border wall construction on day one and letting the world know that the borders are open to all.
It's as if he's determined to destroy America in record time?
TRENDING: "Why Was I Handed a Hot Gun?" – Unhinged Alec Baldwin Responds on His Killing on Thursday
Breitbart.com reported:
President Joe Biden's deputies have invited roughly 570,000 migrants across the southern border since January, amid a worldwide epidemic and economic crisis, according to federal data leaked to the Washington Post.

Advertisement – story continues below

The Biden migration was boosted by lax border security which allowed at least 450,000 additional migrants to sneak across the border. Many of those so-called "got-aways" were allowed to make repeated, unpunished efforts to sneak past the thin screen of distracted border guards.

The inflow of roughly 1 million job-seeking, wage-cutting migrants was hidden under a record-breaking total of 1.7 million official "encounters" with migrants at the border, according to the Post's article, "Historic data shows fiscal year 2021's figure was the highest total ever recorded."

The federal government's fiscal year ends each September 30, and re-starts October 1.
Source material can be found at this site.