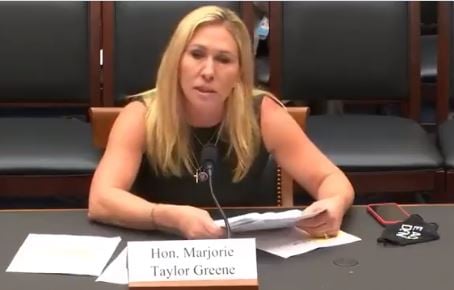 On Friday, before breaking for the weekend, Rep. Marjorie Taylor Greene (R-GA), introduced several articles of impeachment against lawless Joe Biden and "his willingness to use his position of power to aid his son Hunter Biden."
MTG also introduced articles of impeachment against Joe Biden for the open southern border with Mexico, his illegal move to continue the COVID eviction rule.
Advertisement – story continues below
MTG is fighting for the future of this republic.
LOVE MI BEAUTIFUL @mtgreenee ON SAVAGE MODE!!! pic.twitter.com/OuCBUjmhBS

— il Donaldo Trumpo (@PapiTrumpo) October 22, 2021
TRENDING: Alec Baldwin's Negligent Discharge – Actor May Face Involuntary Manslaughter Charges
Rep. Marjorie Taylor-Greene then went to Connecticut for a rally on Saturday.
Advertisement – story continues below
More supporters showed up for MTG than they did during Joe Biden's entire presidential campaign.
MTG led chants of "Let's Go Brandon!" during the rally.
Let's go Brandon!! #FJB pic.twitter.com/FiSmepSioU

— Marjorie Taylor Greene ?? (@mtgreenee) October 23, 2021
Source material can be found at this site.