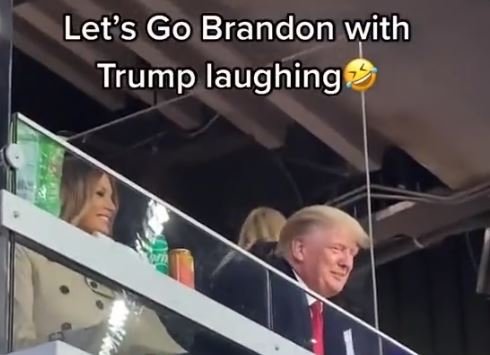 President Trump and First Lady Melania Trump attended Game 4 of the World Series on Saturday night.
President Trump and Melania joined in on the "Tomahawk Cheer" with the Braves' fans.
Advertisement – story continues below
President Trump Cheers On Atlanta Braves With "Tomahawk Chop" At World Series Game 4
Now there's video of President Trump smiling and laughing as baseball fans chanted, "Let's Go Brandon!" at the game.
TRENDING: EXCLUSIVE: West Point Cadets Who Chose to Leave West Point Rather Than Take COVID Vaccine Were Coerced, Abused and Discriminated Against
WOW – Here's Donald Trump enjoying a "Let's Go Brandon" chant at the World Series last night pic.twitter.com/gcDnXPI1PH

— Benny (@bennyjohnson) October 31, 2021
Source material can be found at this site.