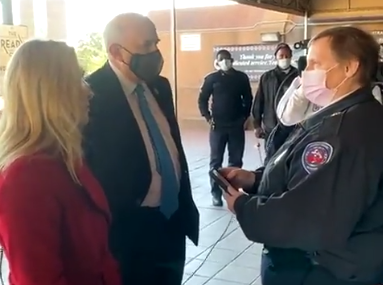 On the anniversary of the 2020 election steal, Republican lawmakers Rep. Marjorie Taylor Greene and Rep. Louie Gohmert visited the DC Gitmo to see the Jan. 6 political prisoners.
They were denied entry.
Advertisement – story continues below
Several American citizens are being held in DC Gitmo for participating in the Jan. 6 protests at the US Capitol — where four Trump supporters lost their lives, one being shot in cold blood.
These prisoners are denied their God-given rights under the US Constitution and are beaten, abused and placed in isolation for their political beliefs — in America.
TRENDING: On One Year Anniversary of the 2020 Election Steal – Was the 2021 Virginia Race a Head-fake by Democrats?
The jailer wouldn't let US lawmakers in.
Today @replouiegohmert and myself were denied entry to visit Louie's constituent conduct oversight at the DC jail.

I'm extremely concerned about the treatment of J6 defendants now ALL inmates being held there.

Call the jail to demand oversight transparency: 202.673.7316 pic.twitter.com/oK7YrvP96f

— Marjorie Taylor Greene ?? (@mtgreenee) November 3, 2021
Advertisement – story continues below
Source material can be found at this site.