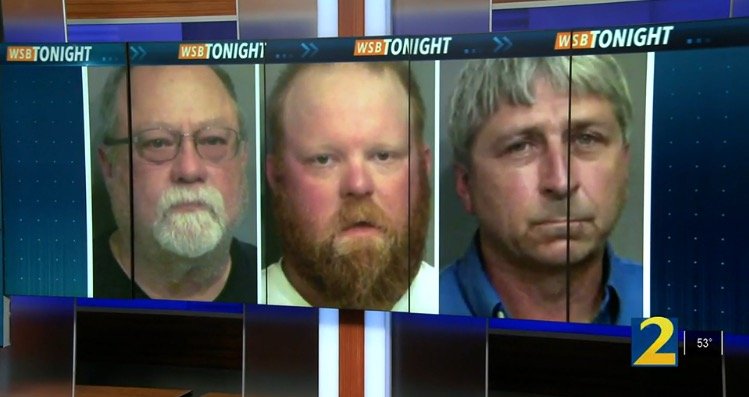 The jury on Wednesday reached a verdict in the trial of Travis McMichael, his father Gregory and their neighbor, Willian Bryan.
The three white men faced charges of felony murder, false imprisonment, malice murder, aggravated assault and criminal attempt to commit a felony in the killing of fake 'jogger' Ahmaud Arbery, a black man.
Advertisement – story continues below
A Georgia jury on Wednesday found Travis McMichael guilty on all counts.
Gregory McMichael and William Bryan were found not guilty of the top charge.
TRENDING: Kyle Rittenhouse and His Mother Flew Out to Meet with President Trump in Mar-a-Lago (Video)
All three men face life in prison.
The judge admonished the courtroom and removed a spectator who celebrated.
Advertisement – story continues below
VIDEO:
Here's Judge Timothy Walmsley admonishing the courtroom and removing one spectator for letting out a celebratory "whoo!" after the first guilty verdict was reached in the Arbery killing. pic.twitter.com/7SSfAOxbzr

— Justin Baragona (@justinbaragona) November 24, 2021
Arbery was a thief who was caught several times snooping around homes and properties in Brunswick, Georgia – even in the daylight.
VIDEO:
Advertisement – story continues below
Video continues: Police arrive after 911 call pic.twitter.com/TZPzlRldwB

— Jack Posobiec ?? (@JackPosobiec) May 9, 2020
The media claimed Arbery was out "jogging" when he was shot dead.
The men pursued Arbery to confront him and make a citizen's arrest (which was legal at the time), a fight ensued and Arbery was shot dead.
Advertisement – story continues below
The defense argued Travis McMichael shot Arbery in self-defense after he tried taking his weapon away during the fight.
VIDEO (warning graphic):
Source material can be found at this site.