An army of NYPD arrested a disabled woman in a wheelchair last night at "Bubba Gump Shrimp Co." in Times Square for refusing to show proof of vaccination.
The restaurant called the NYPD when Julie and a group of unvaccinated guests arrived and asked to be served. The group were turned away from the restaurant. Julie and others refused to leave unless they were served with the same courtesy as the vaccinated guests.
Advertisement – story continues below
"It feels dehumanizing to be medically discriminated against," said Julie. "When they turn you away at the restaurants it just feels awful. I feel feel so isolated and ostracized from everybody else."
Please see video of Julie's arrest below:
TRENDING: Talent Agency Drops Lara Logan After She Compares Killer Fauci to Nazi Dr. Mengele
Activists against mandates in a wheelchair was just arrested for attempting to dine in at Bubba Gump that for the vaccinated only. The NYPD was called and told them to leave or they will get arrested for trespassing. #NYPD #COVID #VaccineMandates pic.twitter.com/l3cEa92ZsG

— Leeroy Johnson (@LeeroyPress) January 17, 2022
You can donate to help Julie with her legal expenses here.
Advertisement – story continues below
"I believe in bodily autonomy for everybody and I want to fight for my rights for bodily autonomy and everybody else's," said Julie. "I am not afraid to get arrested, I am non-violent and I believe that non-violent civil disobedience can make a change."
According to her GiveSendGo,
Julie is a NYC disabled resident, a very warm and beautiful person! More importantly, she is a very brave freedom fighter! On Monday, January 17, 2022 she was arrested by the NYPD for Criminal Trespass for not producing Proof of Vaccine while attempting to Dine Inside, with FRIGID TEMPERATURES outside!
Julie refuses to get the Covid Vaccination for a wealth of reasons, and does not believe she should be rejected from dining inside – especially in the United States of America!
This fundraiser has been created by C.A.P.P. to specifically raise funds to help pay for any legal representation associated with this arrest, and to possibly launch a lawsuit against those involved in denying her most basic fundamental rights as a US Citizen!
Advertisement – story continues below
Please support Julie in this effort through your prayers, encouragement, and financial support! Please help Julie in her fight to correct this INJUSTICE by liking, commenting, giving, and sharing her story with everyone you know!
Many in the New York City Freedom movement believe that Julie can be successful is winning a lawsuit against the city for medical discrimination.
"The city officials are afraid of Julie because she is the perfect plaintiff to sue the city and win," said Tina Ryan of Citizens Against Political Persecution. "She already has a hard time gaining access to facilities because of her handicap, and now on top of that she has to deal with the extra discrimination of being told she cannot enter a single restaurant, gym, event venue or museum in the city. It is complete an utter isolation for the victims of these mandates. Julie is a stark example of how these insane mandates affect everyone's lives and if she brings a lawsuit it can potentially benefit everybody affected by these unconstitutional mandates. Please donate to Julie's fund and pray that she is successful for all of us."
Advertisement – story continues below
"Julie is a true American hero," said Newsmax Host John Tabacco. "She is willing to sacrifice herself and get arrested to showcase the tyranny going on in New York City for the world to see. I am hopeful she brings a lawsuit that can potentially assist in saving us all."
Thirteen others were also arrested at Bubba Gump's alongside Julie.
They are members of a group of peaceful activists determined to change New York City. They have been sitting in at restaurants all over the city, asking for service without Vaccine Passports. Multiple arrests have been made, including those at The Cheesecake Factory, Applebees, The Olive Garden, Burger King and others. We here at The Gateway Pundit were the first to report on The Cheesecake Factory Incident with exclusive footage and interviews- spawning the news to go viral around the world and in Mainstream Media.
Advertisement – story continues below
1-14-22
Full video when Activists against mandates were arrested at Olive Garden in NYC for defying the mandates #NYC #COVID19 #mandates https://t.co/txt3bFXa46

— Leeroy Johnson (@LeeroyPress) January 16, 2022
Please also see this amusing video of a man in NYC approach the anti-mandate activists and accuse them of being "Shadow Trump Supporter" (whatever that means). They quickly put him in his place and he takes off:
1-12-22 union Square Cafe in NYC that's for the V only. Activists against mandates attempt to dine in but were refused service. A customer of the restaurant gets in an activists face and states " who are you guy a shadow Trump supporters " activists replied
" you took trumps v " pic.twitter.com/Zzg4WD7MO1

— Leeroy Johnson (@LeeroyPress) January 14, 2022
See this video of activists outside the NYPD precinct following the arrests:
Advertisement – story continues below
#happeningnow.
After Activists were arrested , others Activists gathered at the NYPD Pct to wait for their friends to be released from jail.
Activists chant " F×CK JOE BIDEN AND F×CK ERIC ADAMS "
some Activists were released from the pct #fjb #LetsGoBrandon #EricAdams pic.twitter.com/JD7vMzvGiz

— Leeroy Johnson (@LeeroyPress) January 18, 2022
*Please follow @LeeroyPress on Twitter for past arrests videos and more as the arrests in NYC continue to unfold.
*Please also check out king.jesus.aok on Instagram, who frequently goes "Live" at sit-ins of arrests in NYC.
*Please donate to help Julie with her legal expenses here.
Advertisement – story continues below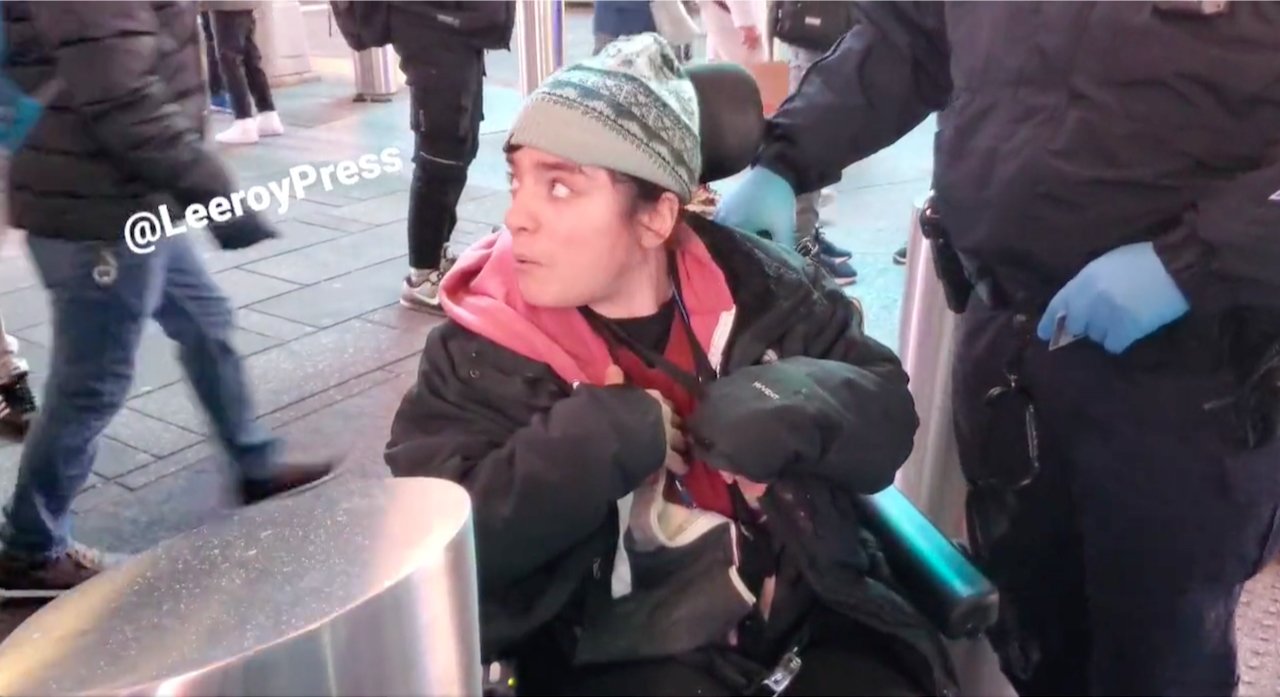 ———————————————-
Cara Castronuova is a co-Founder of C.A.P.P. (Citizens Against Political Persecution and The People's January 6th Commission. She is an Activist, Investigative Journalist, 2-Time Boxing Champion, Celebrity Fitness Trainer and Television Personality. You can watch her on Newsmax at 10PM EST every Saturday night on "Wiseguys". You can follow her on Twitter or Instagram  @CaraCastronuova. She is currently banned on Fakebook suing them for defamation of character.  You can contact her via the C.A.P.P. website at www.CitizensAPP.us or www.caracastronuova.com if you have any tips or would like to volunteer.
Advertisement – story continues below
Source material can be found at this site.