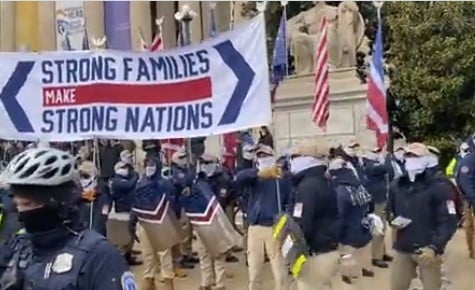 The Khaki-clad Federal Patriot Front group was out protesting again today — This time at the March for Life in Washington DC.
Two weeks ago this mysterious khaki-clad group showed up at the Chicago March for Life for some reason.
They were feds.
Advertisement – story continues below
EXCLUSIVE: Evidence Suggests Yesterday's Khaki-Clad Patriot Front Parade in Chicago Included 'Tradecraft' Indicating Federal Government Involvement
Today the group hijacked the 49th Annual March for Life.
TRENDING: ERIC Investigation, Part 2: The Largest U.S. Counties Removed Only ZERO to TWO Ineligible Voters From Their Voter Rolls the Last 4 Years
Is anyone buying this?
I'm at the police line between the pro life march and Patriot Front (feds probs) pic.twitter.com/JaIlNLqkQQ

— Olivia Rondeau ?? (@rondeaulivia) January 21, 2022
Advertisement – story continues below
Source material can be found at this site.