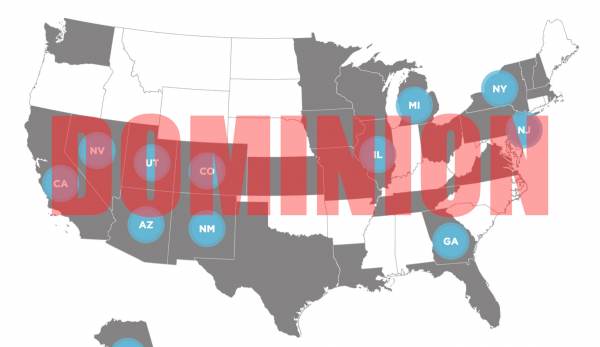 The Pennsylvania Supreme Court stepped in and stopped an audit of Dominion Voting Machines in Fulton County.  The Court prevented the state Senate from performing an audit of voting machines in the state even though the legislature oversees the election process in the state. 
You just can't make this up.  This Supreme Court in Pennsylvania is so corrupt.  According to the Morning Call:
Advertisement – story continues below
Dominion Voting Systems won an appeal in Pennsylvania's highest court on Monday in a bid to ensure that any inspection of its voting machines as part of Republican lawmakers' inquiry into Pennsylvania's 2020 election be done by a laboratory that has specific credentials.
The Democratic-majority state Supreme Court ruled 5-2, along party lines, to overturn a January decision by a Republican judge on the lower Commonwealth Court.

TRENDING: BOOM! True the Vote Wisconsin Assembly Hearing: 7% of Ballots Cast at Ballot Drop Boxes in Wisconsin in 2020 – Over 137,000 Votes! – Were Trafficked (VIDEO)

That judge ruled that Dominion could not intervene in a wider case involving an inspection of its equipment used by heavily Republican Fulton County in 2020?s election.

Dominion's court case is but one tentacle of a Republican undertaking in Pennsylvania inspired by former President Donald Trump's baseless claims of election fraud.

Advertisement – story continues below
It comes as Republican lawmakers fight in court to use the contractor of their choice to download "digital data" from Dominion's election computers and hardware used by Fulton County in 2020?s election.
There is much that this article doesn't tell you.  As of last year, there were no contractors accredited by the EAC period.  The two firms that have given predictable opinions for years for the EAC were not accredited because their accreditations lapsed and were never renewed.  We pointed this out in Arizona when Maricopa County claimed they only wanted EAC-approved firms to perform their audit.  We identified at the time that no firms were accredited.  The day of our report the EAC suspiciously announced they had renewed the two firms' credentials.
WE CAUGHT THEM: Arizona's Maricopa County Board of Supervisors Lied – EAC Updated Website after Gateway Pundit Report Discovered Their Auditors Were Uncertified
We also know that former Dominion employees word at the EAC.  Therefore any objectivity and independence of that institution are missing.
How Can the Government Agency Certifying Elections (the EAC) Maintain Its Independence When Its CIO Previously Worked for 10 Years for Dominion Voting Systems?
We also know that during the Maricopa audits, Dominion was onsite.
The PA Supreme Court failed again and showed its horrible bias and lack of judgment.  The Senate owns the election process in that state and should be able to have anyone they want to perform an audit of voting machines used in their state.  Fulton County should be able to as well for that matter, to ensure they are comfortable with the election results in their jurisdiction.
The fact that not one single independent and objective forensic audit has been performed of the Dominion Voting Machines used in the 2020 Election is outrageous.  The fact that Dominion has fought so hard to make this so is frightening. 
(This was the only audit of Dominion Voting Machines outstanding from the 2020 Election.  No other audits have been performed.)
Source material can be found at this site.