In January Fulton County Georgia District Attorney Fani Willis requested a special grand jury in her investigation into former President Donald Trump's efforts to overturn Georgia's fraudulent 2020 election results.  Crooked Fani Willis based her investigation on President Trump's call with Georgia officials that was later doctored and leaked to the fake news Washington Post.  The WaPo published a completely fraudulent text of the call.  These phony charges have already been debunked by The Gateway Pundit and others.
Willis sent out a letter to the Chief Judge on the Fulton County Superior Court on January 20th.
Advertisement – story continues below
Futon DA request for specia… by Jonathan Raymond
Again — Willis and her handlers are investigating a now-infamous call between former President Trump and Sec. of State Brad Raffensperger, in which Trump pressured the Georgia SOS to uncover what he insisted was fraud that would overturn Georgia's election results.
TRENDING: "Mitch McConnell and His RINO Friends Would Rather see a Democrat Like Biden be President than a Republican Like Me" – Trump RIPS McConnell and Disgusting DC RINOs Who Hate Trump and His Voters
The infamous phone call between Trump and Georgia Secretary of State Brad Raffensperger was recorded by Raffensperger and his office.  Raffensperger's team then leaked and lied about it to the far left Washington Post.
Fake News WaPo Caught Fabricating Trump Quote, Falsely Claimed Trump Urged Georgia Elections Investigator to 'Find the Fraud'
Advertisement – story continues below
Raffensperger's office released the dishonest story to the liberal media and it was published on January 9, 2021 — days before the sham Trump impeachment trial!
It was meant to damage President Trump before the fake impeachment.
Georgia Chairman of the Republican Party David Shafer posted this on his Twitter account as the news broke after they all got caught lying about the phone call.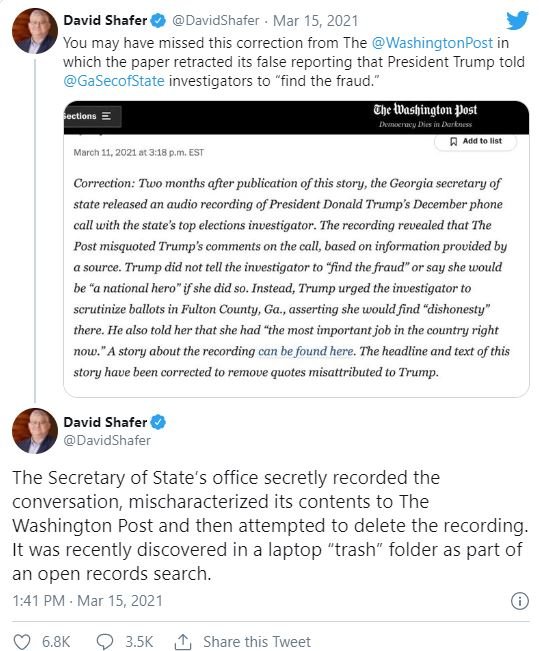 DA Willis screwed up when she sent out her letter on January 20th.   Willis says in her letter that she is "investigating the facts and circumstances relating directly to possible attempts to disrupt the lawful administration of the 2020 election."
Advertisement – story continues below
On Monday the fake news is reporting that a grand jury has been selected to investigate Fani Willis's junk charges against President Trump.
The news of the grand jury selection comes the day before the movie "2000 Mules" will hit the screens in America.
Advertisement – story continues below
"2000 Mules" shows definitive proof of paid ballot traffickers stuffing the ballot boxes with THOUSANDS of illegal ballots in Georgia and other states.
So while Fani is deflecting attention of the fake news media —  Dinesh D'Souza, Catherine Engelbrecht and Gregg Phillipps are releasing their evidence to the public.  First, they will released the movie this week.  Then they will release their myriads of evidence to the public in the days ahead.
Here is what is coming out this week——
Advertisement – story continues below
Fani picked the wrong time to play her games.  This will not end well for Democrats.
Source material can be found at this site.