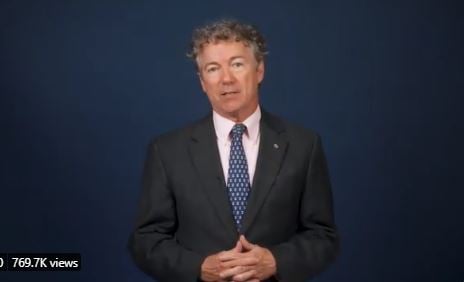 Senator Rand Paul tonight halted the bill that was pushing $40 billion more for Ukraine. 
Yesterday we reported on the House's bill that passed and gave $40 billion to Ukraine. This bill passed with all Democrats voting yes and most of the Republicans.  There literally is no longer any pushback from the left-on war in Ukraine.
Advertisement – story continues below
House Passes $40 Billion Foreign Aid Package For Ukraine in 368-57 Vote — 149 Republicans Vote in Support of War Package, 57 Vote No
In the past, there was a faction within Congress that didn't want or like war, but that is ancient history.  No longer are politicians and their base protesting a war effort.  The liberal party that protested wars in Afghanistan and Iraq are history.  AOC and others are weak and have no say in what is going on.
TRENDING: HUGE EXCLUSIVE: Voting Systems Used Across the Country Have Functionality to Create Ballots and Fill Them Out – Why Are They Allowed?
Senator Rand Paul stopped the Uniparty's effort
In a rare showing of public unity, Senate Majority Leader Chuck Schumer and Republican Leader Mitch McConnell took to the Senate floor to press for quick passage of a $40 billion aid bill for Ukraine but were blocked by GOP Sen. Rand Paul of Kentucky who is demanding changes to the legislation.
Advertisement – story continues below
Advertisement – story continues below
War is the uniparty goal – that and money and power.
Source material can be found at this site.