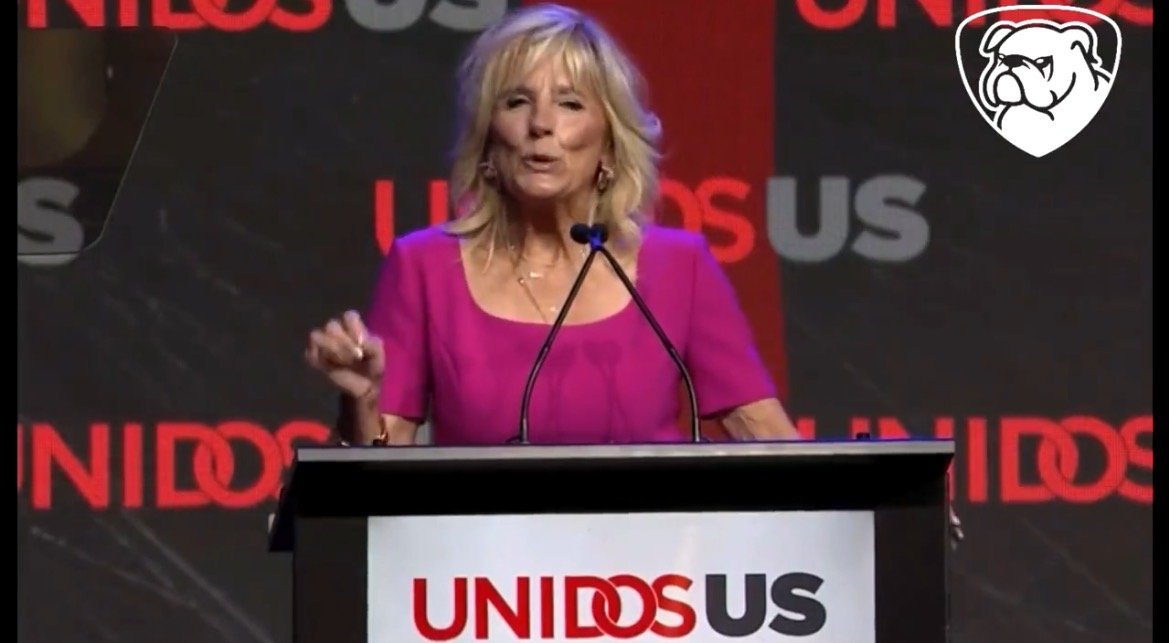 Jill Biden on Monday delivered a speech at a "Latinx IncluXion Luncheon" in San Antonio.
"The luncheon, which is part of the 2022 UnidosUS Annual Conference, provides "the opportunity to learn about and collaborate on issues ranging from housing to health, racial equity to education, diversity and inclusion to owning our narrative as a community,"" Fox News reported.
Advertisement – story continues below
A new poll has found that white liberals are nine times more likely to use the term "Latinx" than actual Hispanics are.
The poll from Echelon Insights found that among registered American voters, just 3 percent expressed a preference for "Latinx," including less than 1 percent of Hispanic voters, according to a report from the Washington Free Beacon.
TRENDING: THEY ALL LIED AND WE HAVE PROOF! Highly Sensitive DOJ Jan 6. Documents Leaked to The Gateway Pundit – FBI Confidential Human Source INFILTRATED Proud Boys, Ran FBI Operation on J-6, Reported They Were INNOCENT! — See Texts and Documents IN FULL!!
Conservative Latinos were offended that Jill Biden was speaking at a "Latinx" event.
Maybe if we rebrand the Southern Border as SouXern BorderX, Joe Biden will finally visit? https://t.co/xCYrp74gM0

— Cassy Garcia for Congress (@CasandraLGarcia) July 11, 2022
Advertisement – story continues below
Jill Biden butchered the word "bodega" while Hispandering to the Latinx community and La Raza.
"… with the understanding that with the diversity of this community as distinct as the bogidas (sic) of the Bronx! As beautiful as the blossoms of Miami…" Dr. Jill said.
Video via Newsbusters:
Once again, Dr. Jill Biden butchers the Spanish language in furtherance of pandering to a client constituency (the org FKA National Council of La Raza). I hereby bless your timelines with Dr. Jill's rendering of "bodega". pic.twitter.com/Z4FSXtlUMe

— Jorge Bonilla (@BonillaJL) July 11, 2022
Advertisement – story continues below
Last year Jill Biden wrapped up her Cesar Chavez Day speech by butchering "Sí Se Puede" – Spanish for "Yes, it is possible" or "Yes, we can"
Almost, Dr. Jill!
WATCH:
Advertisement – story continues below
Almost! pic.twitter.com/ZW8PYVlqYn

— Alexei Koseff (@akoseff) March 31, 2021
Source material can be found at this site.